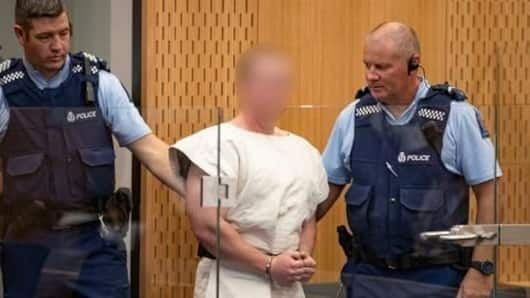 New Zealand terrorist fires lawyer, will represent himself in court
Brenton Tarrant, the 28-year-old terrorist who opened fire in New Zealand last week, has fired his lawyer and will represent himself in court.
To recall, two mosques- Al Noor and Linwood were attacked, during Friday prayers, killing 50 people and injuring over 40.
Australian-born Tarrant had strong anti-immigration and anti-Islam thoughts and came to NZ only to execute the attack. Further investigation is underway.
Tarrant may use platform to spread his "extreme views"
Following protocol, Tarrant was given an attorney, named Richard Peters. The duty lawyer said that his association with Tarrant ended on Saturday as the extremist decided to represent himself.
Tarrant is likely to use the high-profile case to spread his views, which he detailed in the manifesto before the attack.
Peters revealed Tarrant isn't "mentally unstable" and is clear about his "extreme views".
He won't shy away from publicity, said Peters
"I suspect that he won't shy away from publicity, and that will probably be the way he runs the trial. The job of the trial judge will be to deal with that," said Peters.
Love World news?
Stay updated with the latest happenings.
Yes, notify Me
Peters said representing Tarrant was "part of job"
Further, Peters said he didn't have issues with representing Tarrant in court as it was a part of his job.
"My job was simply to appear in court and advise him of his rights and procedure," he said.
Now that Tarrant has fired the government-appointed lawyer, the court may give him another counsel who will explain the "boundaries" of arguments to him.
Tarrant could be harmed in prison
Criminal justice advocate Sir Kim Workman told New Zealand Herald that Tarrant would be kept in solitary confinement as he's a "marked person". Prisoners may try to harm him.
"In my experience when you have got someone with that sort of profile, they (jail authorities) do have contingency plans, certainly in the early stages of the sentence or when they're in remand," he said.
NZ takes steps to change gun laws
Tarrant, who had a gun license, used a variant of the AR-15, a semi-automatic weapon, to carry out the heinous crime.
After the attack, NZ Prime Minister Jacinda Ardern said the gun laws will change within ten days. The reforms will make the community safer, she underscored.
A meeting of the cabinet was called on Monday to discuss the same.
Meanwhile, Ardern showed how a leader should behave
Over the weekend churches in NZ opened gates for Muslims and invited them to pray in peace.
During the entire turmoil, Ardern displayed impeccable leadership qualities. Her first reaction to the attack was that the victims were "one of us" but the terrorist wasn't.
Dressed in hijab, Ardern also consoled the grieving families. The picture went viral and won hearts over the globe.
We all need a little compassion
Can you imagine having a leader of a country showing this kind of empathy?
Thank you, Jacinda Ardern, for reminding the world what a Leader is and could be.pic.twitter.com/uYcGGS9ccB

— Jonny Geller (@JonnyGeller) March 17, 2019
Who is Branton Tarrant?
Asked 2019-03-18 18:13:56 by Ajay Vyas
Answered by NewsBytes
Branton Tarrant is the terrorist who attacked two mosques in New Zealand on March 15. He was born in Australia and is 28 years old.
How many people died in NZ terror attack?
Asked 2019-03-18 18:13:56 by Shaurya Chauhan
Answered by NewsBytes
50 people were killed and 40 were injured in the attack.
How many Indians died in the attack?
Asked 2019-03-18 18:13:56 by Vishal Pillai
Answered by NewsBytes
5 Indians were killed in the horrendous attack.
What did Jacinda Ardern say about gun laws in NZ?
Asked 2019-03-18 18:13:56 by Arnav Sharma
Answered by NewsBytes
Jacinda Ardern confirmed the gun laws in the country will change.