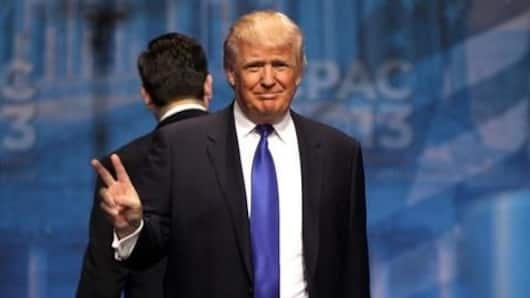 Trump didn't "conspire" with Russia for 2016-campaign, concludes Mueller probe
In what qualifies as one of the best days of Donald Trump's presidency, the investigation of special counsel Robert Mueller concluded the US president didn't "conspire" with Russia during 2016 elections.
Attorney General William Barr made the findings of the probe public which had been clouding Trump's presidency for years.
An elated Trump said, "This was an illegal takedown that failed."
Here's what happened.
Backstory: Mueller was probing Trump's campaign's links with Russia
For the last two years, Mueller was investigating whether Russia's attempt of interfering in 2016 Presidential elections were aided by people close to Trump or not.
According to public interviews and records, at least 14 Trump's associates interacted with Russian citizens.
Mueller was also tasked with finding whether Trump obstructed justice after the FBI started probing those close to him.
Trump or his aides didn't collude with Russia: Report
"The Special Counsel's investigation did not find that the Trump campaign or anyone associated with it conspired or coordinated with Russia in its efforts to influence the 2016 US presidential election," Barr's four-page summary, which was also sent to Congress, read.
On the issue of obstruction of justice, Barr noted there wasn't enough evidence to "support persecution".
Love World news?
Stay updated with the latest happenings.
Yes, notify Me
Mueller report doesn't suggest further indictments
"The Special Counsel did not draw a conclusion as to whether the examined conduct constituted obstruction. The report does not recommend any further indictments, nor did the special counsel obtain any sealed indictments that have yet to be made public," the summary letter reportedly read.
With Trump getting relief, Democrats started planning next step
Democrats had been waiting for the investigation to plan their next step, just as the US readies itself for 2020 Presidential election.
Though Barr spoke about confidentiality while releasing the summary, Democrats have started demanding the release of the full report as well as investigation files.
If the Justice Department's documents wouldn't satisfy Democrats, they threatened to take Trump administration to court.
Barr may be called to testify before House Judiciary Committee
In light of the very concerning discrepancies and final decision making at the Justice Department following the Special Counsel report, where Mueller did not exonerate the President, we will be calling Attorney General Barr in to testify before @HouseJudiciary in the near future.

— (((Rep. Nadler))) (@RepJerryNadler) March 24, 2019
Trump's aides cheered and welcomed the report
On the other hand, Republicans cheered. Sen. Lindsey Graham, R-S.C said it was a "good day of the rule of law".
"The cloud hanging over President Trump has been removed by this report. Bad day for those hoping the Mueller investigation would take President Trump down," Graham added.
Rudy Giuliani, Trump's lawyer, said the report was even better than he expected.
Meanwhile, Trump said it was "shameful" President went "through this"
Before boarding the Air Force One in Florida, Trump said, "It's a shame that our country had to go through this. To be honest, it's a shame that your president has had to go through this. It was a complete and total exoneration."
Keep America Great, tweeted Trump
No Collusion, No Obstruction, Complete and Total EXONERATION. KEEP AMERICA GREAT!

— Donald J. Trump (@realDonaldTrump) March 24, 2019
What is the Mueller probe?
Asked 2019-03-25 09:54:50 by Cheshta Chavan
Answered by NewsBytes
Special counsel Robert Mueller was probing whether Donald Trump or his aides conspired with Russia during the 2016 Presidential campaign.
What did the investigation conclude?
Asked 2019-03-25 09:54:50 by Aaryan Jayaraman
Answered by NewsBytes
The investigation gave a clean chit to Trump in this regard as Mueller concluded he didn't collude with Russians.
How did Democrats react to this?
Asked 2019-03-25 09:54:50 by Rakesh Sarin
Answered by NewsBytes
Democrats have demanded that the probe findings, as well as investigation files, should be made public.
What did Trump say on the report?
Asked 2019-03-25 09:54:50 by Tejas Mittal
Answered by NewsBytes
Trump welcomed the report and noted he was completely exonerated. He added, "This was an illegal takedown that failed."