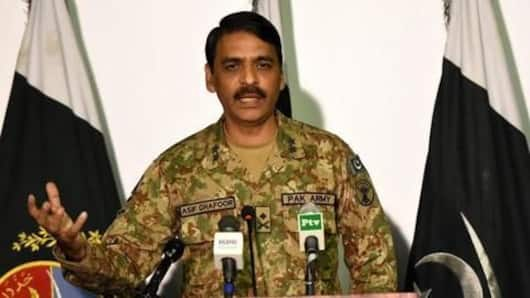 F-16 kill: IAF presents radar images, but Pakistan denies claims
On Monday, the Pakistani Army continued to remain in a state of denial as it reiterated that Indian Air Force (IAF) didn't shoot down an F-16 jet in the February 27 dogfight.
Asif Ghafoor, Chief of Inter-Services Public Relations (ISPR) of the Pakistani Army, claimed a lie couldn't become truth if repeated numerous times.
His comments came after IAF presented proofs.
Here's more.
IAF's RGK Kapoor showed images, confirmed Abhinandan's feat
IAF's RGK Kapoor held a press briefing on Monday to explain what happened during the aerial combat.
He said an F-16, made in the US, came close to Wing Commander Abhinandan Varthaman's MiG-21 Bison and he shot it down.
Kapoor confirmed that Indian Army posts saw two parachutes that day, separated by 8-10 km. He even displayed radar images to support the claim.
Love World news?
Stay updated with the latest happenings.
Yes, notify me
Ghafoor persisted that F-16 wasn't shot down
Hours after the important press meet, Ghafoor tweeted, "Repetitions don't make truth of a lie". He claimed IAF has failed to provide evidence about the downing of F-16.
"Don't overlook Pakistan's silence for not drum beating losses on Indian side. Fact is that PAF shot down two IAF jets, wreckage seen on ground by all (sic)," Ghafoor wrote in his tweet.
Earlier, US publication contradicted US' claims, only to be rubbished
It should be recalled that last week, Foreign Policy magazine of the US dismissed India's claims by citing two defense officials.
The unnamed officials claimed F-16s in Pakistan's inventory were counted and none were found to be missing.
However, Pentagon rubbished the report saying it had no information about such an "investigation". It also reminded that the US has stopped military aid to Pakistan.
Unsurprisingly, Imran Khan believes all F-16s are safe
Notably, Pakistan has based its flimsy claims on the FP report, despite the Pentagon distancing itself from it.
Earlier, Pakistan Prime Minister Imran Khan said BJP was spreading lies for electoral benefits.
"BJP's attempt to win elections through whipping up war hysteria and false claims of downing a Pak F 16 has backfired," Khan had tweeted last week.
Who shot down an F-16?
Asked 2019-04-09 11:42:47 by Dhruv Saxena
Answered by NewsBytes
Wing Commander Abhinandan Varthaman shot down an F-16 on February 27. He was piloting a MiG-21 Bison.
What happened on February 27?
Asked 2019-04-09 11:42:47 by Aditya Yadav
Answered by NewsBytes
Pakistani jets attacked India's military establishments, a day after Balakot strikes. But the PAF jets were forced to retreat due to the timely intervention of IAF.
What proofs has India shown to support its claim?
Asked 2019-04-09 11:42:47 by Trisha Shah
Answered by NewsBytes
India displayed debris of AMRAAM missile, which only F-16 can fire, and showed radar images to support its claim that F-16 was downed.
What did Foreign Policy claim in its report?
Asked 2019-04-09 11:42:47 by Devansh Chauhan
Answered by NewsBytes
Citing two unnamed two defense officials, Foreign Policy reported that all F-16s in Pakistan's inventory were accounted for. But Pentagon said it didn't know of any such probe.