World
US-Gulf allies look to Trump with uncertainty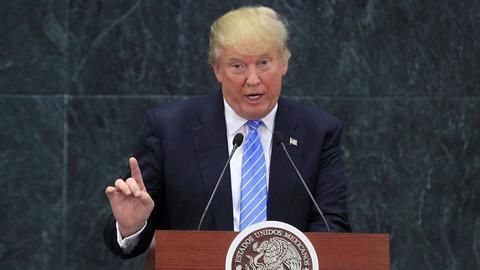 Leaders in the Middle East are looking to US President-elect Donald Trump with uncertainty as his rhetoric on the current US Middle East policy indicates that a change is likely to be on the cards.
His condemnation of the Iran Nuclear Deal and promised "neutrality" in the Israel-Palestine conflict brought mixed reactions from West Asia.
How his policies pan-out is yet to be seen.
In context:
Donald Trump's Middle-East policy
The Iran Deal

Trump and the Iran Nuclear Deal
Donald Trump has been highly critical of the Iran Nuclear Deal, having called it the "worst deal ever negotiated."
While this echoes the views from West Asia's Sunni leaders, a cancelled deal could be disastrous as it would plunge the region back into uncertainty.
A canceled-deal would reduce chances for Rouhani's re-election, whose campaign was based on the deal; this could cause more regional-instability.
John Kerry advises against scrapping Iran deal

Secretary of State John Kerry advised Trump against scrapping the deal, saying it could pave the way for Tehran to restart its nuclear weapons program. He added that it could lead to a nuclear arms race in the Middle East.
Love World news?


Stay updated with the latest happenings.
Yemen

Bringing the US out of Yemen
Trump has also been critical of the US support to the Saudi coalition that is bombing Yemen.
Trump's policies could range from limiting intelligence and weapons transfers to Saudi allies, to ceasing re-fuelling operations for Saudi bombers.
However it is unlikely that he would refer the Yemen case to the UNSC, for fear of Russia pointing out US double-standards on criticizing Russia in Syria.
Israel-Palestine

Will Trump remain neutral on Israel-Palestine?
One of Trump's campaign promises was to be neutral in UN negotiations on Israel and Palestine, a significant break from US tradition of supporting Israel; this is seen as a blessing for Sunni leaders in the region.
However, Trump was vocally critical of the recent UN vote on Israeli settlements, tweeting "Stay strong Israel, January 20th is fast approaching!"
Syria

What happens to Syria?
Trump has long accused the Obama-administration's Middle East policy of fostering the creation of ISIS.
While Trump's general rhetoric on the US role in Middle East conflict has been to scale back, his selection of Gen. James Mattis to lead the Pentagon seems contradictory.
However, his praise of Russian President Vladimir Putin may signal a change in the US stance on the region.
Energy

How will Trump influence energy policy?
Sunni leaders in the Middle East are weary of Trump's energy polices.
Trump has long been seen as supportive of making the US energy self-sufficient; he expressed his intent to bring economic expansion by tapping "American energy reserves, including shale, oil, natural gas, and clean coal."
This would mean a significant scaling back on US energy dependence on Saudi Arabia.
Love World news?


Stay updated with the latest happenings.
07 Jan 2017

US-Gulf allies look to Trump with uncertainty
30 Jan 2017

Trump, King Salman agree to Syria, Yemen safe zones
The White House stated that US President Donald Trump and Saudi Arabia's King Salman agreed to support safe zones in Yemen and Syria, to accommodate refugees from these countries.
However, the Saudi government made no mention of safe zones in their official statement after the conversation.
The two also spoke about Iran's role in the West Asian conflict zones.