Trump names son-in-law as senior White House adviser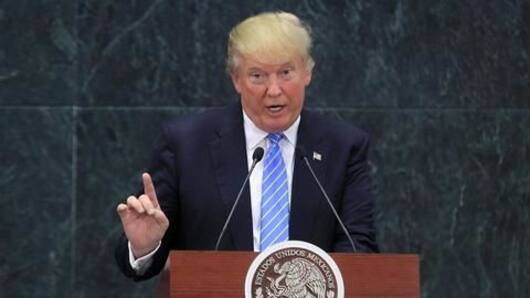 US President-elect Donald Trump has named Jared Kushner, his son-in-law, as a senior White House adviser.
Kushner, 35, is married to Ivanka Trump, 35.
Members of the rival Democratic Party oppose Kushner's appointment, citing nepotism laws and potential conflict of interest.
Members of the US government's House Judiciary Committee have called on the Department of Justice and the Office of Government Ethics' intervention.
In context
Trump names son-in-law as senior White House adviser
Profile
Who is Jared Kushner?
Kushner is a property developer who comes from a wealthy family that has business interests worth billions of dollars around the world.
He was admitted to Harvard despite having poor grades after his father Charles gave $2.5 million to the university.
He took over his family's company at age 28 after his father was imprisoned for tax evasion, illegal campaign donations and witness tampering.
Kushner may have business ties with Chinese government
During the presidential campaign, Kushner has been negotiating a billion dollar business deal with the Anbang Insurance Group to redevelop New York City's 666 Fifth Avenue. Anbang is a Chinese conglomerate that likely has ties to China's leadership.
Love World news?
Stay updated with the latest happenings.
Notify Me
De-facto manager
Kushner's role in Trump's campaign
Kushner is a close confidant of Donald Trump and was crucial in selecting key personnel in Trump's election campaign.
Kushner is believed to have pushed for the sacking of Trump's controversial campaign manager Corey Lewandowski.
He reportedly convinced Trump to pick Mike Pence as his running mate.
Trump earlier described Kushner as a "tremendous asset."
Laws could be circumvented
Kushner's lawyers will reportedly argue that the White House is technically not an agency, exempting him from nepotism rules. The law remains untested when it comes to non-cabinet positions such as senior White House adviser. He could come on board as an unpaid consultant.
Plans
What Kushner may do to join White House
Kushner will be required to recuse himself from decisions which could financially benefit his businesses.
Kushner's lawyers said he will be divesting himself of "substantial assets."
They said Kushner is committed to complying with federal ethics laws" and has coordinated with the Office of Government Ethics.
22 Jan 2017
US DoJ: Trump can appoint son-in-law as White House adviser
The US Department of Justice stated that Donald Trump would not be breaking federal anti-nepotism laws by appointing his son-in-law as an adviser to the White House.
The DoJ said on its website that the president has special hiring authority that exempts White House positions from anti-nepotism laws.
It said Trump was also free to seek advice from family members in their personal capacities.
14 Mar 2017
Trump's son-in-law in $4 bn deal with Chinese
Sources revealed that the company run by the family of Donald Trump's son-in-law is to receive $400 million from a Chinese company, investing in a tower in Manhattan.
The company made a deal with the Anbang Insurance Group for a property at 666 Fifth Avenue, worth $4 billion.
The experts consider it an "unusually favorable deal" for the Kushners.
30 Mar 2017
Trump's son-in-law Kushner ends development talks with the Chinese firm
Jared Kushner's company and China's Anbang Insurance Group Co. have ceased their talks to redevelop an office tower in Manhattan, which had earlier attracted scrutiny on the grounds of ethics.
According to a statement emailed by Jared Kushner's spokesperson, both firms mutually decided to end talks about '666 5th Avenue's' possible redevelopment.
The spokesperson from Anbang declined to comment on the same.