World
President Trump signs order on abortion policy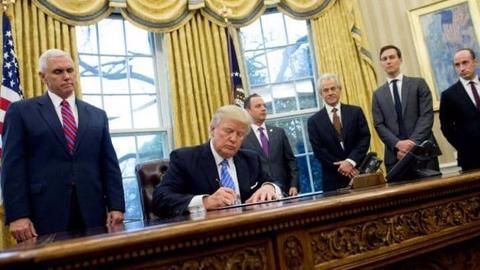 On Donald Trump's first day in the Oval Office, he signed an executive order that revived a ban on federal funding towards groups that perform or provide information on abortions.
The policy is relevant to groups based outside the US and will especially impact those campaigning for women's rights in developing countries.
This ban had been rescinded by US President Barack Obama in 2009.
In context:
US revives ban on funding for abortion groups
What is it?

Mexico City Policy
In 1984, US President Ronald Reagan was the first to implement a ban on federal funding to groups or NGOs overseas that discussed abortions as a 'family planning option'.
President Reagan announced the ban at a UN Population conference in Mexico, hence the policy's official name - 'Mexico City Policy.'
Critics however refer to the 'Mexico City Policy' as the 'global gag rule'.
Why is it called 'global gag rule'?

Organizations overseas that receive US federal funding are prohibited from offering counsel on abortion services, information, referrals and are even barred from engaging in advocacy to promote abortions.
Love World news?


Stay updated with the latest happenings.
Pro Choice vs. Pro Life

Republican vs. Democrats on abortion rights
US Presidents have used 'Mexico City Policy' to signal their stance on abortion rights.
Republicans and Democrats, in sync with opposing stances, Pro-Life and Pro-Choice respectively, have periodically implemented and overturned ban.
Post Republican President Reagan's announcement of funding ban, it was overturned by Democratic President Bill Clinton.
It was re-implemented by Clinton's Republic successor, George Bush and overturned by President Obama in 2009.
Background

President Trump and his pro-life stance
Donald Trump, from being Pro-choice in 1999, is now strongly Pro-life.
During the campaign, he reiterated his stance on abortion rights and said there should be "some form of punishment" for women who have abortions.
He however said he would allow exceptions in case of rape/incest.
Trump's Press secretary said, Sean Spicer, President Trump "wants to stand up for all Americans, including the unborn."
25 Jan 2017

President Trump signs order on abortion policy
Trump signs order on abortion rights: no woman in sight

President Trump signed the order on abortion policy in presence of an all male cabinet. This led to a furore over social media prompting author JK Rowling to say on Twitter: "Men making decisions about women's bodies".
Love World news?


Stay updated with the latest happenings.
15 Feb 2017

Women in Oklahoma may need men's written consent to abort
Oklahoma passed a proposal which calls for women to obtain permission from their sexual partner to 'allow' them to have an abortion.
The bill, if passed, would require women to carry a written consent from a man to be able to terminate their pregnancy.
State legislator Justin Humphrey authored the bill; he described pregnant women as "hosts", saying it would give fathers a "say-so."