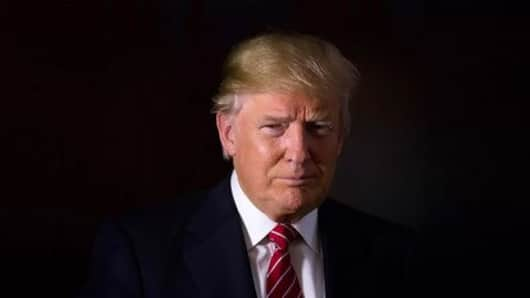 Trump's ex-aide claims he kissed her forcibly, his lawyers disagree
President of United States, Donald Trump, has been accused of forcibly kissing a woman, who campaigned for him before the 2016 Presidential elections.
The ex-staffer Alva Johnson came out with the allegations in February and sued Trump.
Now, Trump's legal team has discredited her story and released a short clip to show the kiss was with consent.
Here's all about it.
Alva alleged Trump grabbed her hand, leaned in to kiss
The incident happened at a Florida rally on August 24, 2016. Trump, who was running for office, allegedly grabbed Alva's hand and leaned in to kiss her mouth.
Sensing his intentions, Alva turned her head and Trump kissed the side of her mouth.
Alva told WaPo that she spoke about the "kiss" on the same day it happened with her boyfriend, mother, and stepfather.
Trump violated decency by kissing Alva, the lawsuit read
"Like he has done with so many other women, Defendant Trump violated norms of decency and privacy by kissing Ms. Johnson on lips without her consent in the middle of a Florida work event and in front of numerous other Campaign officials," the lawsuit read.
Love World news?
Stay updated with the latest happenings.
Yes, notify Me
Interestingly, Alva called Trump 'the nicest guy' two years ago
When Alva sued Trump, what caught attention was the fact that she spoke glowingly of him in a May 2017 interview.
"He's just the nicest guy. . . . He treats everyone as if they are a part of his family," Alva had said.
Later, Alva's lawyer Hassan Zavareei, said Alva was bound by a nondisclosure agreement which prevented her from saying anything negative about Trump.
Naturally, White House's first reaction was dismissing Alva's allegations
Meanwhile, when the allegations surfaced, the White House rubbished them vehemently. Terming the allegations "absurd", Sarah Sanders, the then-White House press secretary, said, "This never happened and is directly contradicted by multiple highly credible eye witness accounts."
Releasing clip, Trump's lawyer called Alva's allegations 'frivolous'
Adding to the murkiness of the tale, Charles Harder, one of Trump's attorney, released a 15-second clip to show the kiss was far from "forced". In Wednesday's court filing, Harder said Alva's claim was "unmeritorious and frivolous".
He argued the clip shows an "innocent interaction that is mutual - and not forcible".
However, Alva's legal team said the clip only corroborates her version.
Both sides made contradictory claims about video
Here's the video of President Trump "forcibly" kissing Alva Johnson on the mouthpic.twitter.com/9j0SPdOuYu

— Eddie Zipperer (@EddieZipperer) July 12, 2019
Clip shows Alva wasn't comfortable, said her lawyer
Further, Harder argued after the "interaction" Alva told Trump, "We're going to get you in the White House and I'll see you in February", to drive home a point that she wasn't uncomfortable.
But Zavareei contended.
"She testified exactly why she felt uncomfortable. She testified that she didn't know how to react when it happened and that she was confused and uncomfortable," he added.
Separately, Alva's lawyer accused Trump's team of hampering the clip
In addition, Zavareei argued Trump's team removed the clip's metadata, stopping Alva from finding out "who created the video, when it was created, and other important information about its origins".
Notably, two Trump's supporters, whom Alva identified as witnesses, have denied seeing the "kiss".
Till now, at least 16 women have accused the POTUS of sexual misconduct. He has denied all the allegations.
Who is Alva Johnson?
Asked 2019-07-13 12:56:04 by Shreya Bhatnagar
Answered by NewsBytes
Alva Johnson is a former staffer of Donald Trump who accused him of forcibly kissing her.
When did the incident take place?
Asked 2019-07-13 12:56:04 by Vivaan Sen
Answered by NewsBytes
The alleged kiss happened in August 2016, when Alva was campaigning for Trump.
How many women have accused Trump of sexual misconduct?
Asked 2019-07-13 12:56:04 by Ananya Gupta
Answered by NewsBytes
16 women have accused Trump of sexual harassment.
What did Trump's team say on Alva's allegations?
Asked 2019-07-13 12:56:04 by Parakram Sen
Answered by NewsBytes
Trump's team dismissed the allegations and said the kiss was consensual.