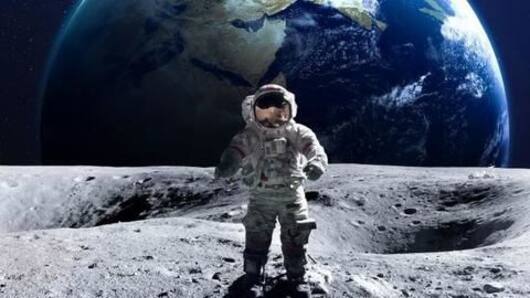 More people to videocall lovers, not parents, from moon: Survey
Ahead of the 50th anniversary of the groundbreaking Apollo 11 mission on July 20, a United States-based tech professional association, Institute of Electrical and Electronics Engineers, has conducted a survey about space travel.
The recent survey announced that 53% of respondents are interested in physically traveling to space in a spacecraft, along with other interesting findings.
Here are more details about the findings.
56% people would videocall lovers from moon; 14% pick mothers
Recognizing that smartphones today are more powerful than the four computers NASA used for the Apollo 11 mission, IEEE asked respondents: "Assuming your smartphone would work, who is the first person you would video call from the moon?"
Over 56% people said they would call their spouse/partner. 14% of people would call their mothers, followed by friends (9%) and fathers (8%).
Would you feel safe in spacecraft piloted by humanoid robot?
The survey also asked if they would feel safe in a spacecraft piloted by a robot that looked and talked like a human, to which, 79% respondents said they would feel somewhat or completely safe, while 21% said they wouldn't feel safe, Express Computer reported.
Love World news?
Stay updated with the latest happenings.
Yes, notify me
65% think solar panels invented through space travel tech
Respondents were also asked which one of today's everyday innovations among a list of options find their roots in space travel.
Top items identified as these technological "spinoffs" were solar panels (65%), athletic shoe (40%), heart defibrillator (32%), cordless vacuum (28%), mattress (19%), among others, Express Computer reported.
Interestingly, although NASA massively helped keep solar tech alive, they didn't directly/indirectly invent solar cells.
Did you know NASA tech helped invent artificial limbs?
Over the years, space technology developed by NASA has aided in inventing everyday solutions such as infrared imaging, fireproof material, smoke detectors, water filtration systems, artificial limbs, etc. NASA even has a database of all such commercial products it helped develop available online.
Which future tech would space travel help develop next?
Following up after that last question, the survey asked respondents which area do they think would be greatly (and positively) impacted by space travel technology over the next decade.
Around 26% respondents felt that the 'Health and medicine' sector would be greatly impacted by the tech, followed by transportation (23%), computer technology (21%), and environmental resources (20%).
Who conducted this survey?
Asked 2019-07-16 15:25:20 by Charvi Mistry
Answered by NewsBytes
The survey was conducted by United States-based tech professional association, Institute of Electrical and Electronics Engineers.
How many respondents participated in the survey?
Asked 2019-07-16 15:25:20 by Aaradhya Mittal
Answered by NewsBytes
Across reports, the total number of respondents participating in the survey hasn't been mentioned. However, an IANS report stated that 400 attendees at the 2019 Consumer Electronics Show in Las Vegas were among participants of the survey.
What are NASA 'Spinoffs'?
Asked 2019-07-16 15:25:20 by Devansh Patel
Answered by NewsBytes
NASA spinoffs are technologies, products, and processes that have been derived from NASA development and expertise.
Can we make videocalls from space?
Asked 2019-07-16 15:25:20 by Ridhi Chavan
Answered by NewsBytes
Although technically we can make video calls from space, however, the same cannot be done with the help of a smartphone.