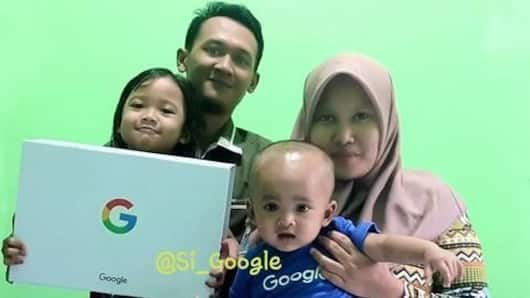 Couple who named son 'Google' receive gifts from tech giant
An Indonesian couple named their newborn 'Google', proving that it's never too soon to set your child up for bullying at school and disappointment.
Parents Ella Karina and Andi Cahya Saputra, who live in Bekasi, West Java, had announced the news of their son, Google, on social media.
It went viral almost instantly, even catching the attention of the tech giant's Indonesia branch.
Mother was opposed to name initially; relented later
For months, Karina said, she was opposed to the idea of naming her son 'Google' after his birth in November 2018, but given her husband's persistence, she warmed up to the name.
"I hope my son will be a leader who leads many people, who is useful to many others," Ella told Indonesian news portal Kompas.
Google is the couple's second child.
Father says they received many negative comments over name
The news received mixed responses as, Saputra said, many claimed he named his son 'Google' for financial compensation, with hopes of future recruitment at the company, or to receive funding for his school fees.
"When I read comments on social media... Oh, my God! Was I that low?" Saputra said.
"I said 'Amen' to positive messages, because I try to think positively," he added.
Love World news?
Stay updated with the latest happenings.
Yes, notify me
Google Indonesia sent gift bag to parents
Although Google Indonesia did none of the things people claimed the parents sought from the company, they did reach out to them and sent them a goodie bag via app-based transportation last month.
Karina refrained from disclosing the contents of the gift bag, but her son was photographed wearing jumpers with 'Google' written across it.
Google also congratulated its namesake; extended wishes to parents
Apart from the gifts, the couple also received a call from Google Indonesia, congratulating them. Karina said, "They expressed congratulations and wished that baby Google could grow up to be a helpful and useful person to many others."
When was the baby born?
Asked 2019-07-17 12:33:09 by Harini Bhatnagar
Answered by NewsBytes
Baby Google was born in November 2018.
Why did the parents name the baby Google?
Asked 2019-07-17 12:33:09 by Angel Chopra
Answered by NewsBytes
According to some news reports, there's a growing trend of naming children after big corporations. Perhaps that's why the father, Andi Cahya Saputra, named his son Google.
Where does baby Google live?
Asked 2019-07-17 12:33:09 by Arnav Mehta
Answered by NewsBytes
The family currently lives in Bekasi, West Java, Indonesia.
What did Google gift the parents?
Asked 2019-07-17 12:33:09 by Shaurya Rodrigues
Answered by NewsBytes
Although the mother didn't reveal the contents of the gift bag sent by Google, baby Google was photographed wearing onesies with the tech giant's name.