World
Trump considers 20% tax on Mexican imports to finance wall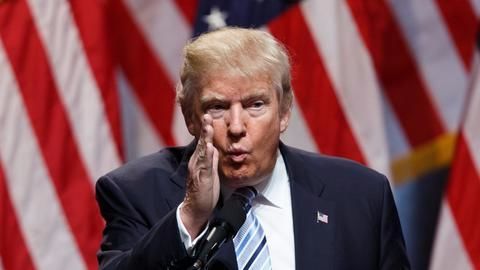 US President Donald Trump suggested that a new 20% tax on imports from Mexico would be instituted to finance the construction of a border wall.
His statement came after Mexican President Enrique Pena Nieto cancelled his meeting with Trump at the White House scheduled for next week.
US-Mexico relations appear to be heading towards a crisis.
In context:
Trump considers 20% border tax to finance wall
26 Jan 2017

Trump fulfils campaign pledge, orders Mexico border wall's construction
President Donald Trump has signed an executive order for the construction of an "impassable physical barrier" along the US-Mexico border.
Trump cited an "unprecedented surge" of undocumented immigrants from Central America for his decision. The US Congress will have to approve the wall's construction, which will likely cost billions of dollars.
Trump previously said Mexico would "absolutely, 100%" reimburse the US for his wall.
26 Jan 2017

Mexico says it won't pay for wall
"I've said time and again; Mexico won't pay for any wall," said President Enrique Pena Nieto.
He "lamented" Trump's plans, adding that "Mexico doesn't believe in walls."
"Mexico offers its friendship to the American people," he added.
Pena Nieto said he will proceed on the issue based on a report by the "functionaries in Washington DC and advice from the chamber of commerce, governors."
Love World news?


Stay updated with the latest happenings.
27 Jan 2017

Trump considers 20% tax on Mexican imports to finance wall
Confusion

White House clarifies: 20% tax just one idea
Trump has discussed the funding proposal with lawmakers which could be included in a tax reform package planned by the US Congress, said White House spokesman Sean Spicer.
Spicer said the 20% tax could earn America $10bn annually.
However, following widespread criticism, Trump's chief of staff Reince Priebus appeared to walk back on the proposal calling it one of a "buffet of options."
Countries don't pay tax, companies do

Countries like Mexico do not directly pay taxes to other countries. If the 20% tax is instituted, companies importing products to the US would be liable to pay. This would possibly raise prices of goods for American consumers.
Trade war?

Border tax could destroy Mexican economy
The tax could be disastrous for Mexico. After the North American Free Trade Agreement (NAFTA) came into effect in 1994, Mexico's economy has been deeply integrated with America's.
Mexico exports around $300bn worth of goods every year to the US. It is America's third largest trading partner after Canada and China.
"I would assume that this is the start of a trade war," a Mexico City-based economist said.
Love World news?


Stay updated with the latest happenings.
Avocados, tequila prices to increase after tax

"If you tax exports from Mexico into the United States, you're going to make things ranging from avocados to appliances to flat-screen TVs, you're going to make them more expensive," Mexican foreign minister said. The cost of tequila would also increase.
02 Feb 2017

Trump threatens to send troops to Mexico: Associated Press
President Donald Trump threatened to send American troops into Mexico to take care of "bad hombres" [bad men] in a phone call with Mexican President Enrique Pena Nieto, according to a leaked White House transcript cited by the Associated Press.
The transcript doesn't detail who Trump considered "bad hombres." It comes amid strained US-Mexico ties.
The Mexican government has dismissed the reports.
What Trump reportedly told Nieto

"You have a bunch of bad hombres down there," Trump told Pena Nieto. "You aren't doing enough to stop them. I think your military is scared. Our military isn't, so I just might send them down to take care of it."
12 Feb 2017

Trump's proposed US-Mexico border wall to cost $21.6 billion
The proposed wall along the US-Mexico border will cost $21.6 billion, a study from Department of Homeland Security has found. It will take over three years to construct it.
These figures are much higher than Trump's $12-billion and Republican House Speaker Paul Ryan's $15-billion estimates.
The wall is expected to cover over 2,000 kms by 2020. 1,046 kms of the border are already fortified.
26 Feb 2017

Mexico wall to come 'way ahead of schedule', says Trump
US President Donald Trump said building of the "great (Mexico) border wall" will start "soon, way ahead of schedule".
The remarks came one day after US Secretary of State Rex Tillerson and Homeland Security Secretary John Kelly met their Mexican counterparts. No mention of the wall was made.
A Homeland Security report says the wall would cost $21.5bn, much higher than Trump's estimated $12bn.
27 Feb 2017

Mexico promises to retaliate to Trump's economic measures
Mexico's Foreign Minister Luis Videgaray said Mexico would respond to any tax the US would unilaterally impose on Mexican imports.
He said, in response Mexico would levy significant charges on select goods aimed at US regions which are dependent on exports.
Speaking to reporters, Videgaray siad "what we cannot do is remain with our arms crossed."