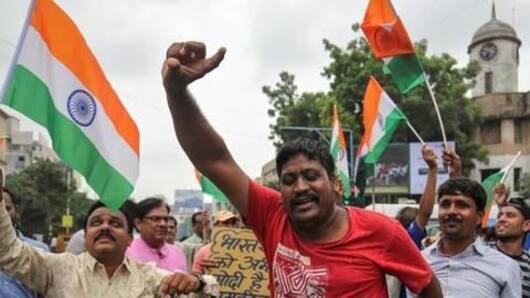 #Article370Scrapped: India informs UN's permanent members about Kashmir decision
On Monday, the Foreign Ministry informed permanent members of the United Nations' Security Council about India's decision to repeal Article 370 of the Constitution, which granted special status to Jammu and Kashmir, and the move to divide the state into two Union Territories.
The five permanent members are- China, France, Russia, the United Kingdom, and the United States.
Here's what went down.
Context: Modi-Shah created history by repealing Article 370
In what marks as the biggest decision of Prime Minister Narendra Modi's second term, Centre repealed Article 370, bringing J&K under the Indian Constitution.
Further, J&K was made a union territory with legislature and Ladakh was given union territory status without a legislature.
About the move, Home Minister Amit Shah said it will curtail terrorism, combat corruption, and ensure J&K's development.
UNSC members were informed India changed "temporary" provision
Since J&K, and more importantly Kashmir has been a topic of discussion in international forum, India informed UNSC members about it.
The foreign ministry is learned to have told the countries that changes were made to a "temporary" provision.
"70 years is a long time for something temporary. It lessened accountability, quality of governance and added to separatist sentiment," the ministry told them.
Love World news?
Stay updated with the latest happenings.
Yes, notify me
Using provision of Article 370, government removed it
Interestingly, the government used a provision of the same Article 370 to abolish it.
As per Article 370's Section 3, "Notwithstanding anything in the foregoing provisions of this article, the President may, by public notification, declare that this article shall cease to be operative or shall be operative only with such exceptions and modifications and from such date as he may specify."
Matter internal to India, will promote good governance: Foreign Ministry
While Foreign Secretary Vijay Gokhale briefed envoys of China, France, Russia, the UK, and the US, other senior officials apprised envoys of other countries about this development.
Reportedly, it was conveyed that the matter was internal to India and the step was taken for good governance.
This decision will promote social justice and economically improve J&K's status, the ministry is learned to have said.
In Parliament, Shah said Article 370 devoid J&K of benefits
What the ministry officials told envoys of several countries is in agreement with Shah's speech.
While explaining why the article was unnecessary, Shah said in the Parliament, "I want to tell the youth in the valley, with Article 370, there will be no development. If you want poverty, lack of development, lack of sanitation, continue with Article 370."
Meanwhile, Pakistan "condemned and rejected" India's move
After India took the bold step, Pakistan said it would exercise "all possible steps".
The neighboring country said it "strongly condemns and rejects the announcements made today by the Indian Government regarding the Indian Occupied Jammu and Kashmir".
"No unilateral step by the Government of India can change this disputed status, as enshrined in the United Nations Security Council (UNSC) resolutions," Pakistan's statement read.