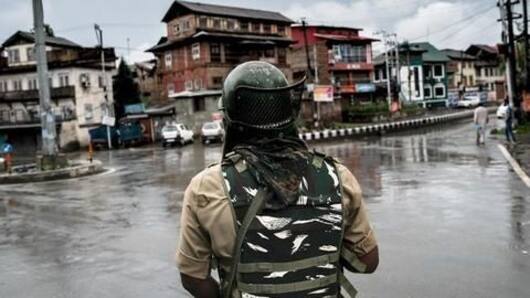 UNSC to hold closed-door talks on Kashmir today
The United Nations Security Council will take up the Kashmir issue and hold closed-door talks on Friday, said reports. The meeting has been facilitated on China's request.
A diplomat in the know said China made a request for the meeting on Wednesday during the Council's informal consultations.
India's decision to annul Article 370 will be the main topic of the meeting.
Here's more.
Context: After India's Kashmir decision, Pakistan looked towards international community
New Delhi's move to withdraw the special status of Jammu and Kashmir, and bifurcate the state into two union territories ruffled feathers of Pakistan, which has been trying to get international support.
Earlier this week, Maleeha Lodhi, Pakistan's ambassador to UN, handed a letter from foreign minister Shah Mehmood Qureshi to UNSC President and Polish Ambassador to the UN, Joanna Wronecka, requesting a meeting.
China wanted discussion to be held on Thursday
In fact, Qureshi also traveled to China just days after India's move. So, it didn't come as a surprise when Beijing, Pakistan's all-weather ally, approached UNSC asking for a discussion.
Reportedly, China wanted the meeting to take place on Thursday, India's Independence Day, but since the schedule was already set, UNSC decided to take the matter on Friday.
Love World news?
Stay updated with the latest happenings.
Yes, notify Me
Meeting will not be covered by media
The nature of the meeting is "closed-door", so its proceedings will not be made public, nor will any statement be recorded. Further, Pakistan will be precluded from participating in it.
"China asked for closed consultations on the Security Council agenda item 'India Pakistan Question'. The request was in reference to the Pakistani letter to Security Council President," a UN diplomat said.
Barring China, all members of UNSC supported India
Except for China, all the other permanent members of UNSC, namely France, the US, the UK, and Russia, have openly supported New Delhi's stand that issues between India and Pakistan are bilateral.
The US went as far as saying that Kashmir was India's internal matter, hinting that no one should meddle in it.
Despite all this, Pakistan is continuing with its tactics.
Can UNSC have a say on Indo-Pak matters?
A former Indian Representative to UN told The Hindu that UNSC has to first decide how it can take the Kashmir issue under "India-Pakistan Subjects", which was relevant till 1971.
However, after both countries signed the Simla Agreement in 1972, it became almost impossible for international forces to have a say on their disputes.
In fact, the UN has also recognized the agreement.
Who all are permanent members of UNSC?
Asked 2019-08-16 10:00:58 by Aadhya Malik
Answered by NewsBytes
Russia, US, UK, France, and China are the permanent members of UNSC.
When was the Simla Agreement signed?
Asked 2019-08-16 10:00:58 by Cheshta Powar
Answered by NewsBytes
Simla Agreement was signed in 1972.
What do closed-door talks mean?
Asked 2019-08-16 10:00:58 by Pranav Mittal
Answered by NewsBytes
Closed-door talks mean that the proceedings will not be covered by media and the statements won't be recorded.
When will UNSC discuss Kashmir issue?
Asked 2019-08-16 10:00:58 by Diya Powar
Answered by NewsBytes
UNSC will discuss Kashmir issue on Friday, August 16.