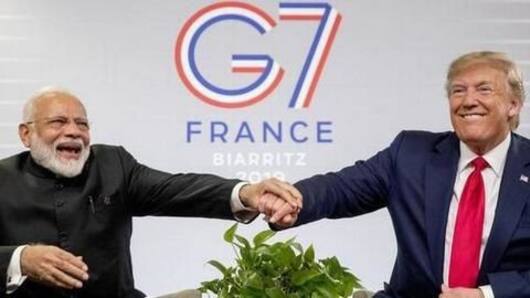 Howdy Modi: Trump to attend PM's mega event in Houston
United States President Donald Trump will attend Prime Minister Narendra Modi's mega event in Houston, Texas, on September 22, the White House confirmed on Sunday.
PM Modi is scheduled to address Indian-Americans in the city and reportedly 50,000 people have registered for the "Howdy Modi" event.
This will be the third meeting between PM Modi and Trump this year, the last one being in France.
First off, what is the event all about?
The event will be hosted at NRG Stadium. This is the first time that an Indian PM will be heard by such a large gathering in North America. In fact, barring Pope Francis, no other foreign leader has addressed such a massive rally in the US.
"Howdy", short for "How do you do?", is a friendly greeting common in the southwestern US.
From Gabbard to Cruz, high-profile lawmakers will mark their presence
The theme of the event is "Shared Dreams, Bright Futures", and PM Modi is expected to underscore the contributions of Indian-Americans in enriching American life.
Interestingly, Tulsi Gabbard, the first American-Hindu Congresswoman, and Indian-American Congressman Raja Krishnamoorthi are also expected to attend the event.
In total, some 60 US lawmakers, including John Cornyn and Ted Cruz, will also be seen at the mega event.
Love World news?
Stay updated with the latest happenings.
Yes, notify me
Trump's presence at PM Modi's event reflects their friendly bond
By choosing to attend PM Modi's event, Trump has shown he shares an amicable relationship with the Bharatiya Janata Party (BJP) leader, who was showered with a historic mandate in May 2019.
This will be the first time in recent history that leaders of two of the largest democracies will be addressing a joint rally anywhere in the world.
White House reminded of strong ties between US and India
About Trump's plans, White House revealed he will visit Houston and then Ohio.
Press Secretary Stephanie Grisham said, "It (Modi-Trump joint rally) will be a great opportunity to emphasize the strong ties between the people of the United States and India, to reaffirm the strategic partnership between the world's oldest and largest democracies, and to discuss ways to deepen their energy and trade relationship."
Meanwhile, India's envoy to US called it "historic"
"Two leaders addressing the 'Howdy Modi' event is historic and unprecedented. It reflects not only closeness and comfort levels in the relationship but also the personal chemistry and friendship between PM Modi and President Trump," Harsh Vardhan Shringla, India's Ambassador to the US, said.
Sharing stage with PM Modi might help Trump too
Pertinently, the joint rally comes at a time when several US lawmakers, most of them Democrats, have raised concerns after India revoked Article 370.
With Presidential elections scheduled for 2020, Trump is eyeing the Indian-American vote and PM Modi might help him with it.
After the rally, PM Modi will fly to New York for a session of United Nations General Assembly.
Undoubtedly, PM Modi is happy with Trump's "special gesture"
The special gesture of President @realDonaldTrump to join us in Houston highlights the strength of the relationship and recognition of the contribution of the Indian community to American society and economy. #HowdyModi

— Narendra Modi (@narendramodi) September 16, 2019
What is the date of "Howdy Modi" event?
Asked 2019-09-16 09:31:01 by Rishika Subramanium
Answered by NewsBytes
"Howdy Modi" event will be held on September 22.
Where will "Howdy Modi" event be held?
Asked 2019-09-16 09:31:01 by Angel Dasgupta
Answered by NewsBytes
The "Howdy Modi" event will be held at NRG Stadium in Houston, Texas.
How many people might attend the "Howdy Modi" event?
Asked 2019-09-16 09:31:01 by Rishika Malhotra
Answered by NewsBytes
Nearly 50,000 people are expected to attend the event.
Will Donald Trump attend "Howdy Modi" event?
Asked 2019-09-16 09:31:01 by Aadhya Bhatnagar
Answered by NewsBytes
White House confirmed that Donald Trump will attend the event.