World
South Sudan declares famine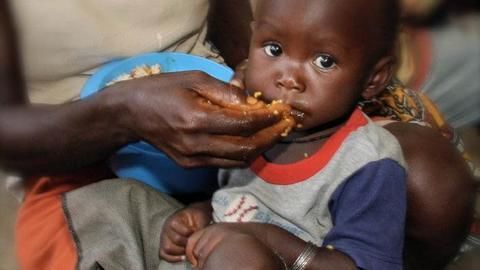 In a significant deterioration of governance and civil society, South Sudan has declared the first famine the world has seen in over 6 years.
Statistics indicate that over 100,000 people face starvation and over a million others are on the verge of starvation in the country.
Yemen, Somalia and north-eastern Nigeria are also close to declaring a state of famine.
In context:
The Famine in South Sudan
South Sudan

South Sudan: Profile
South Sudan is the youngest country in the world and gained independence from Sudan in July 2011. A majority of the country is employed in subsistence agriculture. Oil reserves provide 75% of the country's income.
It has been embroiled in a deadly civil war between factions loyal to President Salva Kiir and former Vice-President Riek Machar.
Even the army is split into 2 factions.
Effects of the civil-war

The fighting between various factions in South Sudan became so intense that it has forced over 2.5 million people to flee their homes. In addition, thousands have been killed by both sides, and several parts of the country remain inaccessible due to heavy fighting.
Love World news?


Stay updated with the latest happenings.
21 Feb 2017

South Sudan declares famine
Causes of South Sudan's famine

The World Food Programme prepared a report that said the famine was "man-made", after three years of conflict across the country stifled crop production. High food prices, economic disruption and low agricultural production have resulted in the area becoming "food insecure."
Severity

How bad is the situation?
According to UN data, famine is currently affecting parts of Unity State in the northern-central part of the country.
Data suggested that over 40% of South Sudan's population is in need of urgent food, agriculture and nutrition assistance. This will increase by July, if nothing is done soon.
Over 1 million children are currently acutely malnourished and over 250,000 children are severely malnourished.
26 Jun 2017

Famine-hit South Sudan cancels Independence Day celebrations again
The famine-hit South Sudan has cancelled Independence Day celebrations for the second time, its sixth after becoming independent in 2011.
"…Our situation doesn't require us to celebrate when there are people in need of funds," government spokesman Michael Makuei said.
Two years after achieving independence from Sudan, a civil war broke out, killing and displacing thousands and contributing to a severe famine.
Love World news?


Stay updated with the latest happenings.
Others

Other countries on the brink
UNICEF data showed that over 462,000 children were suffering from acute malnutrition in Yemen.
Over 450,000 children are severely malnourished in northeast Nigeria.
Drought in Somalia has left 185,000 children on the brink of famine, with this figure expected to reach 270,000 soon.
So far, data suggests that over 14 million children across the world are facing acute shortage of food.