World
Mexico rejects US deportation policy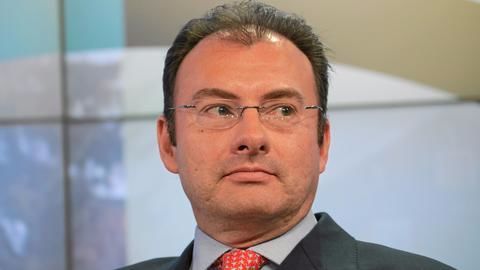 Mexico has rejected new immigration guidelines issued by the Trump administration, under which all immigrants are subject to deportation.
Mexican Foreign Minister Luis Videgaray said his country cannot "accept unilateral decisions imposed by one government on another."
Secretary of State, Rex Tillerson, and the head of Homeland Security, John Kelly are in Mexico to discuss the measures with President Enrique Pena Nieto.
In context:
Changing dynamics of US-Mexico relations
US-Mexico relations

US-Mexico relations at a glance
Mexico is the US' second-largest export market and third-largest trading partner. In 2015, two-way trade in goods and services was more than $580 billion.
The two countries share a 2000 mile border. Mexico is the most popular travel destination for Americans with over 20 million US tourists visiting each year.
There has been intermittent friction over illegal immigration.
Trump

How Trump upset Mexico
Donald Trump's presidential campaign rhetoric was filled with racially insensitive comments about Mexicans and Mexican immigrants.
In a controversial statement he attributed the rise in sexual assaults and drug abuse in the US to the Mexican immigrants in the country.
He even pledged to build a wall along the US-Mexico border to curb immigration, and said Mexico would pay for the wall.
Love World news?


Stay updated with the latest happenings.
New policy

Trump's new immigration policy
Donald Trump recently widened the scope of deporting illegal immigrants from the US.
Undocumented immigrants arrested for petty crimes will also face immediate deportation.
It allows Border Patrol and Immigration and Customs Enforcement to deport people immediately.
Foreigners caught entering illegally from the US-Mexico border will also be sent back to Mexico, irrespective of their nationality.
23 Feb 2017

Mexico rejects US deportation policy
Mexico's foreign minister said "We are not going to accept that because we don't have to and it is not in the interest of Mexico."
He added that "We also have control of our borders and we will exercise it fully." He also threatened to take the matter up with UN.
Mexico clarified that the US cannot force them to accept foreigner immigrants.
24 Feb 2017

"Concern, irritation" among Mexicans about Trump's immigration policies
Expressing "irritation" at US President Donald Trump's policies, Mexican Foreign Minister Luis Videgaray told US Secretary of State Rex Tillerson that Mexico was worried about respect for immigrants' rights.
Tillerson emphasized cooperation, saying "there will always be differences" between "two strong sovereign countries"
However, in contrast to Trump's earlier statements, Homeland Security Secretary John Kelly ruled out mass deportation and use of military.