World
French want Obama for President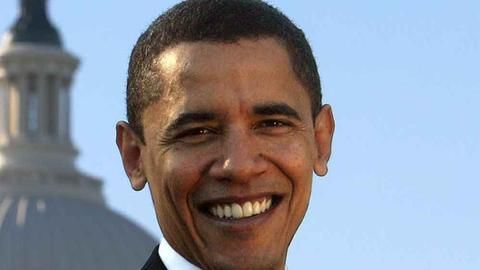 Frustrated at the lack of "suitable candidates", an online petition in France that seeks to have Barack Obama as President has garnered over 42,000 signatures. However, since Obama is not a French citizen, he is ineligible to run.
The campaign carries Obama's 2009 catch-phrase, "Oui, on peut" (Yes we can.)
Voters go to polls on 23 April to elect their next president.
In context:
The 2017 French Elections
Introduction

French elections: An overview
The French President is elected to a 5-year term.
The election is conducted in a two-round system under Article 7 of the French Constitution. If no candidates secures an absolute majority in round one, then the top 2 candidates face a run-off two weeks later.
President François Hollande of the Socialist Party is eligible to run for a second term, but refused to compete.
Election issues

What factors are driving voters in France?
Charlie Hebdo, the 2015 Paris attacks, and the Nice attack have made security and combating terror one of France's key electoral issues.
Another key issue is how to tackle the immigration crisis. Voters are starkly divided over this issue.
Unemployment is another key issue that will play on voters' minds.
The recent protests in Paris over Police abuses will also figure on voters' minds.
Love World news?


Stay updated with the latest happenings.
Marine Le Pen

National Front: Marine Le Pen
Le Pen is the most popular of all candidates and analysts expect that she would lead the fray in the polls.
Le Pen has called for cutting down legal immigration from 200,000 to 10,000 entries per year. She seeks to prioritize French citizens for jobs and housing, and wants to hold a referendum on exiting the EU.
She also seeks to bolster law-enforcement budgets.
Francois Fillon

The Republicans: Francois Fillon
Francois Fillon is the Republican candidate, and is the second most popular candidate in the elections.
Fillon, promised to cut half a million public sector jobs, abolish wealth tax and scrap the 35-hour work week.
He promised to revoke citizenship of those who travelled to Syria to fight alongside ISIS.
He is also in a corruption scandal, over mismanaged public payments to his wife.
Emmanuel Macron

En Marche (Onwards): Emmanuel Macron
Emmanuel Macron is an economist who worked as France's Economy Minister since 2014.
At 38, he is the youngest contender in the election. He set up his party "En Marche", saying it was neither left nor right.
He is seen very favourably by France's entrepreneurial youth, as he made several reforms for growing businesses.
He also backs deregulation of French industries.
01 Mar 2017

French want Obama for President
Love World news?


Stay updated with the latest happenings.
02 Mar 2017

French Elections: Fillon under pressure as polls near
French conservative candidate Francois Fillon is under pressure after the centrist UDI party withdrew support to him. Fillon is also facing a formal investigation over a fake job racket involving his wife.
The UDI said it will reconsider support to Fillon after a meeting next week.
Fillon is also under fire for breaking his pledge to step aside if he was put under investigation.
03 Mar 2017

French presidential candidate Francois Fillon's Paris home raided
The Paris home of French presidential candidate Francois Fillon was raided amid a controversy surrounding wife Penelope, who was reportedly paid $900,000 for her work as a parliamentary assistant, but didn't have a parliamentary pass.
He will appear in court on March 15, two days before the deadline for candidates to submit applications.
Meanwhile, senior Republicans are rallying behind former Prime Minister Alain Juppe.
04 Mar 2017

French presidential candidate Le Pen loses EU parliamentary immunity
EU lawmakers withdrew parliamentary immunity of French presidential candidate Marine Le Pen for tweeting three images of Islamic State violence.
Now Le Pen, who is under investigation for "publishing violent images", can be brought in for police questioning, and any legal action can be taken against her.
Le Pen, who is also allegedly involved in misuse of EU funds, continues enjoying support of followers.
07 Mar 2017

'Ultimate duty' to prevent Le Pen from winning: Hollande
Outgoing French President Francois Hollande said his "ultimate duty" was to prevent Marine Le Pen, candidate of the far-right National Front, from winning.
On Le Pen's possible victory in the polls, he said in an interview published in The Guardian, Le Monde, La Vanguardia, Gazeta Wyborcza and others, that France shouldn't have to "bear such a heavy responsibility".