World
Thai king's adviser sacked for corruption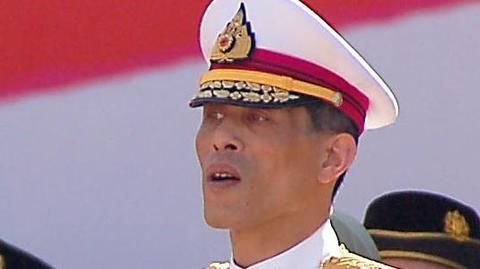 A senior adviser to the Thai king, Jumpol Manmai, a former deputy police commissioner and palace Grand Chamberlain has been sacked over charges of corruption.
The Royal Household Bureau, in an official statement said Jumpol "abused his position to gain personal and political benefits which jeopardizes security."
Neither Jumpol nor his legal representatives made any comments to the media.
In context:
Thailand's draconian royal defamation law
Lese-Majeste

Thailand's lese-majeste laws
The lese-majeste laws, are a set of laws under Article 112 of the Thai constitution that seeks to protect the royal family.
The laws seek to punish anyone who "defames, insults or threatens the king, the queen, the heir-apparent or the regent." There is no definition of what constitutes an insult to the monarchy.
Bringing dishonor to the royal house-hold is also an offence.
In May 2014, the Thai army, led by General Prayut Chan-o-Cha, overthrew the civilian government and suspended the constitution.
The Military Junta, has been seen as very close to the royal family. King Maha Vajiralongkorn, has also served in counter-insurgency operations and air force drills.
The Military Junta's take over is seen as a leg-up for the Thai royalty.
Love World news?


Stay updated with the latest happenings.
Convictions

Convictions under lese-majeste laws
After the 2014 coup in Thailand, convictions under the lese-majeste laws have become more stringent.
Recent cases have grown to include individuals who have allegedly used their connections to the royal family to make money etc.
One of the most high-profile cases, which was shrouded in secrecy included the arrest of half a dozen relatives of Crown Prince Vajiralongkorn's former wife, Princess Srirasmi.
Details

Suspects missing, dead
In recent months, several high profile arrests were made under the lese-majeste laws. Those arrested are remanded to military custody.
However, a famous Thai fortune teller and police general who were both arrested for allegedly using their royal connections for profit, were found dead under mysterious circumstances.
The fortune teller died of a rare blood disease, while the police officer hung himself in custody.
03 Mar 2017

Thai king's adviser sacked for corruption
Charges

What are the charges?
Jumpol faces charges of using his connections to the Royal house-hold to illegally construct buildings on protected land.
According to sources, Jumpol is accused of illegal private building on protected forest land in the northeastern province of Nakhon Ratchasima along with four others.
Jumpol, a high profile police officer even served as Thailand's intelligence chief under exiled PM Thaksin Shinawatra.
Love World news?


Stay updated with the latest happenings.
Won't let democracy take root in Thailand?

Some analysts speculate that the Thai monarchy and military are opposed to allowing democracy to take root in Thailand. Speculation is that they are attempting to reduce former Prime Minister Thaksin Shinawatra's influence in the country, before

elections

scheduled to be held next year.