World
Indian-origin businessman shot dead outside his home in America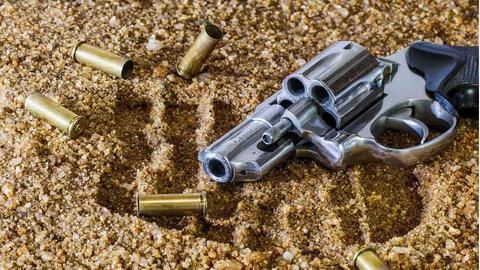 Harnish Patel, an Indian-origin businessman was shot dead outside his home in Lancaster, South Carolina.
An investigation into the murder is ongoing.
"I don't have any reason to believe that this was racially motivated," County Sheriff Barry Faile said.
The incident comes days after the shocking killing of an Indian techie Srinivas Kuchibhotla in Kansas in what was described as a hate crime.
In context:
Spate of hate crimes in the US?
22 Feb 2017

Indian engineer shot dead in Kansas in hate crime
On 22nd Feb, an Indian-American IT engineer Srinivas Kuchibhotla was shot and his colleague Alok Madasani wounded by a white man hurling racial slurs at the two.
Adam Purinton, the alleged gunman, mistook the two Indians to be Middle Easterners; he was heard shouting, "Get out of my country."
Another white man Ian Grillot had intervened to stop Purinton.
Kuchibhotla died in the hospital.
04 Mar 2017

Indian-origin businessman shot dead outside his home in America
Love World news?


Stay updated with the latest happenings.
05 Mar 2017

Hate Crime: Sikh man shot at in Kent
An unidentified individual opened fire at a 39 year old Sikh man who was working on his car in his driveway in Kent. The assailant allegedly asked him to "go back" to his country.
Kent police said they have reached out to the FBI and other law enforcement agencies.
Kent police Chief Ken Thomas said "we are treating this as a very serious incident."
Indian Government voices concern

The Embassy of India in Washington tweeted, "Amb @NavtejSarna conveyed r deep concerns to US Gov on tragic incidents involving Hardish Patel and Deep Rai." In another tweet, the embassy said, "Amb @NavtejSarna underlined need to prevent such incidents and protect Indian community."
13 Mar 2017

Hate crime: American man attempts to burn-down Indian-American store
A 64-year old man in Florida tried to burn down a store owned by Indian-American in St. Lucie County, because he wanted to "run the Arabs out of our country."
County Sheriff Ken Mascara said the perpetrator assumed "that the store owners were Arabic when, they are of Indian descent."
The perpetrator Richard Lloyd, said he "was doing his part for America."
18 Mar 2017

US man charged with hate crime for abusing Indian
A US man has been slapped with hate crime charges for racially abusing and assaulting an Indian man, mistaking him for a Muslim.
The court ruled that Jeffrey Allen Burgess has intentionally inflicted harm on Ankur Mehta because of his "perceived race, colour and national origin".
The assault took place at a Red Robin restaurant in South Hills Village, Pennsylvania.
Love World news?


Stay updated with the latest happenings.
21 Mar 2017

Indian-Americans protest at White House over rising hate crimes
Scores of Indian-Americans held a peaceful rally in front of the White House, seeking President Donald Trump's intervention in the recent hate crimes across the country.
Blaming rising xenophobia and Islamophobia, Virginia-based corporate lawyer Vindhya Adapa said Hindus and Sikhs are being mistaken for Muslims.
The Coalition of Indian American organizations of the USA also submitted a memorandum to Trump seeking necessary corrective steps.
25 Mar 2017

Man shouts: "Go back to Lebanon" to an American-Sikh girl
Rajpreet Heir- a Sikh, witnessed a man shouting and saying: "You don't belong in this country," and asked her to "go back to Lebanon" in Manhattan.
She hails from "Lebanon, not the Middle Eastern country, but a namesake city in Indiana".
This is another disturbing racial discrimination incident after Trump came to power where people of South Asian origin have witnessed abuse.