Massive backlash after CNN's "negative portrayal" of Hinduism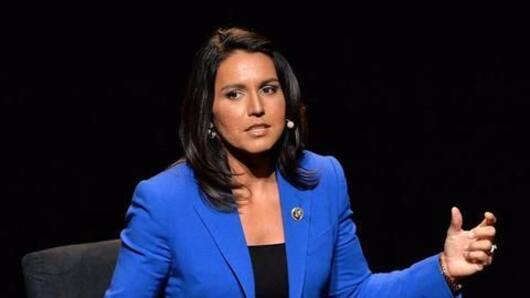 The only Hindu lawmaker in the US Congress, Tulsi Gabbard, has slammed CNN for "sensational and false" journalism after it broadcasted the first-episode of 'Believer', that portrayed Hinduism negatively.
The Congresswoman said apart from "shocking visuals", CNN had "repeated false stereotypes about caste, karma and reincarnation".
Is Hindu bashing fashionable? Or do Hindus play victim card a little too often? Let us find out.
In context
Has the left-leaning, "anti-Hindu" media lost credibility?
'Believer'
What was CNN's show about?
The debut episode of CNN's new show 'Believer', hosted by University of California scholar Reza Aslan, focused on the Aghori sadhus, a Hindu sect.
Aslan is seen bathing in the Ganga, considered holy by Hindus, and at one point, he drinks alcohol from a human skull and eats cooked human brain tissue.
One sadhu even ate his own waste and hurled it at Aslan.
Hindus
Amid controversial 'immigration' comments, Trump's friendly outreach towards Hindus
Amid controversial comments on Muslims and immigrants, Trump had made extensive efforts to reach out to Hindus and Indian-Americans, a significant voter base, during his presidential campaign.
Taking inspiration from Indian PM Narendra Modi, he had also released a video with the slogan "Abki Baar Trump Sarkaar".
Calling India a "natural" ally, Trump had said US and India "are going to be best friends".
Love World news?
Stay updated with the latest happenings.
Notify Me
Hindu groups
US Hindu groups up in arms against CNN
The debut 'Believer' episode evoked angry responses from the Hindu-American community. Eminent Indian-American industrialist and founder of Republican Hindu Coalition Shalabh Kumar called it a "disgusting attack on Hinduism".
California Democratic Congressman Ro Khanna expressed disappointment that Aslan had "made a career of sensationalism over scholarship".
The US India Political Action Committee also urged CNN to stop broadcast of 'Believer'.
Mainstream media
From neutral to "anti-Hinduism" - the journey of mainstream media
In 80s, a neutral outlook guided Indian publications, which soon fell prey to external forces.
By 2005, 'paid news' had become common. The 2009 UPA government laid the foundation for a journalist-politician nexus.
By 2014, the dynamics were firmly embedded. But the "anti-Modi" and "anti-Hinduism" media unintentionally eroded their credibility, helped garner support for Modi, and led to loss of public trust.
Social media
The rise of social media as a source of information
Emergence of social media has posed a serious threat to mainstream media. Often, they are seen portraying different sides of the same picture.
As publications cheered for Hillary Clinton at the Democratic National Convention, people chanted other candidates' names and held up "liar" banners.
Social media has enabled everyone to share their opinion, which the mainstream media might have chosen to overlook.
28 Mar 2017
Indian-Americans protest misrepresentation of Hinduism on CNN
Indian-Americans in Chicago protested outside the CNN office over the negative portrayal of Hinduism in special reporter Reza Aslan's show depicting Aghori babas.
In a letter, protesters said "The grotesque practices of five individuals have nothing to do with Hinduism," saying it was not a part of Hindu rituals.
Protests also took place at New York, Washington, Houston, Atlanta, San Francisco and Los Angeles.