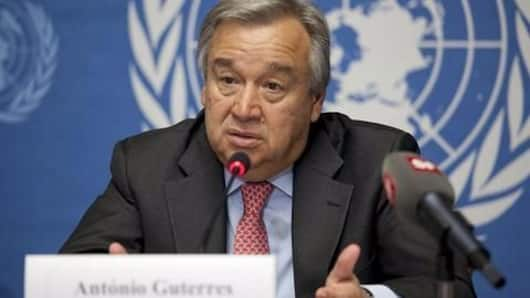 UN chief proposes measures to tackle sexual abuse by peacekeepers
UN Secretary-General Antonio Guterres has proposed new measures to counter sexual abuse and exploitation by UN peacekeepers and staff.
The measures come following dozens of allegations of sex-related violence against UN personnel across the world.
Guterres said countries which fail to investigate such allegations against their soldiers "in a timely manner" wouldn't be paid for their services. Instead this money would go to victims.
145 allegations of sexual crimes against UN personnel last year
In 2016, 80 allegations of sexual exploitation and abuse were recorded against UN peacekeepers and 65 allegations against UN civilian staff, according to a UN report. These 145 allegations involved at least 311 known victims "although there may be more."
UN proposes a four-part strategy against sexual abuse
The UN has pledged to put "the rights and dignity for victims at the forefront of UN efforts."
It will work "relentlessly" to end impunity for the UN personnel who are guilty of sexual abuse.
It will build a network which includes civil society, external experts and organizations to support its efforts.
It would also create global awareness and address stigma faced by victims.
Love World news?
Stay updated with the latest happenings.
Yes, notify Me
UN chief announces dedicated personnel to handle crimes by peacekeepers
Guterres has asked UN envoys for Central African Republic, Congo, Haiti and South Sudan to appoint a victims' rights advocate immediately.
These four peacekeeping operations have reported the highest number of sexual exploitation and abuse cases.
Guterres said a human rights expert would be appointed as an assistant secretary-general to serve the role of a UN-wide victims' rights advocate.
UN proposes non-fraternization of peacekeepers, liquor prohibition at bases
Credits:
Guterres said he will propose a special protocol for UN missions having "heightened risks" of sexual abuse and exploitation as per UN budgets and Security Council mandates.
This includes measures such as non-fraternization for all uniformed personnel, prohibition of liquor consumption as well as certification and training for personnel on UN policy before deployment.
Guterres says UN can address "scourge" of sexual crimes
"I fully recognize that no magic wand exists to end the problem of sexual exploitation and abuse," Guterres said. "Nevertheless, I believe that we can dramatically improve how the United Nations addresses this scourge."