#WeirdNews: Duct-taped banana sold for $120,000 (Rs. 85 lakh)
World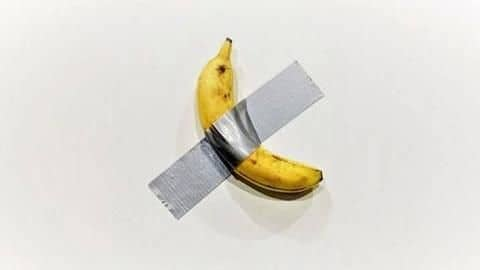 In a genuine nod to minimal art, a banana, duct-taped to a wall, has been sold for a mind-boggling price of $120,000 (Rs. 85 lakh).
Yes, let's face it- a humble, edible banana grabbed more money than what some of us dream of scoring in an annual salary package, all for art's sake.
The mesmerizing artwork was displayed at the Art Basel Miami Beach.
Details
'Comedian' is the creation of Italian artist Maurizio Cattelan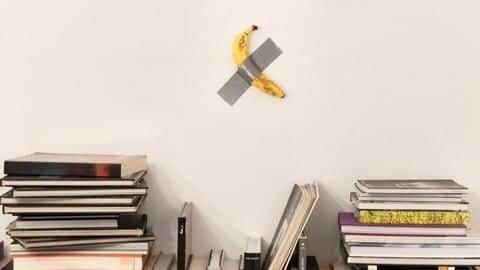 The artwork, titled 'Comedian', is the creation of Italian artist Maurizio Cattelan, who says he bought the banana for his masterpiece from a Miami supermarket.
The artwork, that went on sale earlier this week, has already sold two copies.
While the first two editions were snapped up by French buyers, the third one is reportedly up for sale at a higher price of $150,000.
Quote
'One day, I woke up and...': The story behind art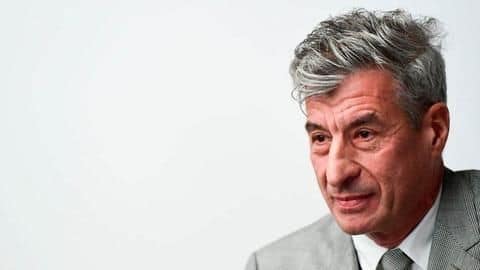 In conversation with Artnet, Cattelan explained how it took him over a year before the idea finally struck.
He said, "Wherever I was traveling, I had this banana on the wall. I couldn't figure out how to finish it. In the end, one day I woke up and I said 'the banana is supposed to be a banana'."
And there it was, the jackpot!
Information
Cattelan has previously created a solid gold toilet, titled 'America'
Before the Comedian, Cattelan, who has a reputation of creating satirical sculptures, grabbed quite a lot of attention with a previous artwork titled 'America', which was basically a fully-functional solid 18-carat gold toilet, valued at $1.25 million. However, it was stolen!
DIY
Here's how you can make your own DIY banana artwork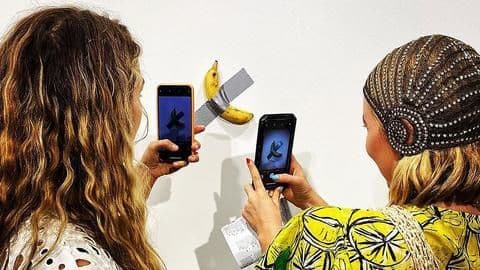 The original artwork comes with a certificate of authenticity. Oh, and in case, the banana begins to rot, you can simply replace it with a fresh one. Easy-peasy!
However, if you're on a tight budget, you can easily make your own DIY masterpiece.
Here's how: Buy some duct tape, a fresh banana, and find a plain, white wall. Now, let your creative juices flow.
Twitter Post
By the way, the internet is going bananas over it
If someone hasn't duct taped a thousand bananas to the walls, stalls, storefronts and street lamps in and around the convention center by tea time, artbasel deserves to sink into the sea pic.twitter.com/zbjaoaxy4k

— gregorg (@gregorg) December 4, 2019
Twitter Post
Could have taped it better, advised another user
I could have taped it much better at least 😅 can't wait for the clever buyer to have a decomposed piece of crap fake art 😁

— Paolo Sanguineti (@paolosanguineti) December 6, 2019
Twitter Post
Starting at $100K. Hurry up!