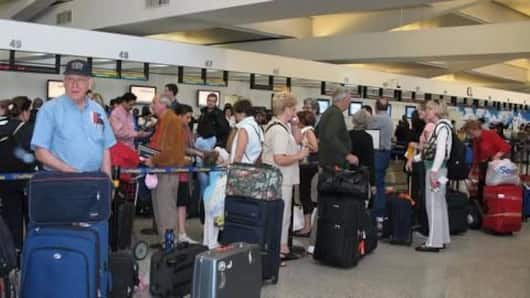 Electronic devices larger than cellphones banned on certain US-bound flights
In March, the US banned electronic devices larger than a cellphone on incoming flights from certain countries due to a security threat, said officials.
Larger devices like tablets, DVD players, laptops and cameras were allowed to be carried in checked-in luggage.
Passengers would, however, be allowed to carry certain approved medical devices.
The potential al-Qaeda threat
The rule was under consideration for a few weeks, reportedly since a US raid in Yemen unearthed potential al-Qaeda-related threats. Several planned bomb blasts by the group have reportedly been foiled in recent times. Homeland Security said it will provide an update "when appropriate".
Love World news?
Stay updated with the latest happenings.
Yes, notify Me
Who will be affected?
Sources said the new rule would impact 8-10 foreign airlines and 10 international airports in the Middle East and North Africa, including some in Jordan, Saudi Arabia, and other unnamed countries.
Royal Jordanian Airlines issued a statement on the same on Twitter, notifying US-bound passengers of the ban including those that travel via Canada.
US airlines would, however, not be affected.
The February 2016 Somalia attack
The decision is believed to have come after an explosion on a Somalia flight last February. Two were injured when a laptop bomb exploded 20 minutes after take-off.
A body was later recovered near Mogadishu; the man was reportedly ejected out of a hole in the plane caused due to the blast.
Militant group al-Shabab, linked to al-Qaeda, had claimed responsibility.
UK announces ban on electronic devices
The British government banned any electronic device larger than 16cm long, 9.3cm wide or 1.5cm deep to be carried in cabin baggage on direct flights to the UK from Turkey, Lebanon, Jordan, Egypt, Tunisia and Saudi Arabia.
Laptop ban: US may ban laptops on all flights
US Homeland Security Secretary John Kelly said that the US is considering imposing a blanket ban on carrying laptops in the cabins of all fights coming in and leaving from the US.
He said the move was being considered in an attempt to combat all kinds of sophisticated threats.
He said "we're going to raise the bar generally speaking for aviation much higher."