H-1B visas: Application dates open April 3 for 2017-18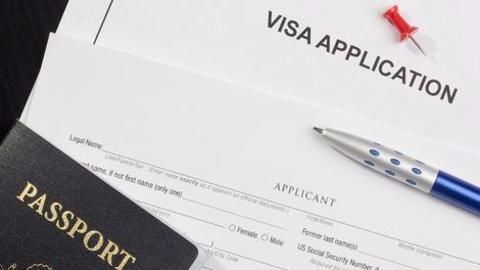 Starting April 3, the US will start accepting applications for H-1B visas for the new fiscal year.
Last year, 236,000 petitions were submitted for 85,000 available visas within just a week. When demand is more than supply, a lottery system decides awardees.
However, with the Donald Trump administration adopting an unwelcome approach towards foreigners, there are additional stress factors this time.
In context
H-1B visa application starts April 3
Changes
What's new under the Trump administration?
Despite measures tightening restrictions on foreigners' entry, the Trump administration hasn't enforced changes to the H-1B application process.
Congress has been reviewing a bill proposing a hiked minimum annual salary of $100,000 for employees hired under the H-1B programme; no call has been taken yet.
The only change is the temporary suspension of 'premium' processing; non-premium processing could take up to eight months.
Abuses of the H-1B programme
Trump has actively objected to companies using the programme to hire entry-level workers from outside at cheaper rates, instead of bringing in top foreign talent. A recent study also found that the programme had reduced IT wages by 5% and employment by 11% during 1994-2001.
Love World news?
Stay updated with the latest happenings.
Notify Me
04 Apr 2017
H-1B visas: US tightens rules for foreign IT workers
The US tightened laws on hiring of computer programmers under the H-1B visas scheme; apart from having necessary IT skills, the petitioner will now have to "provide other evidence to establish that the particular position is one in a specialty occupation".
It has also warned companies against misusing the programme to hire cheap foreign talent and discriminate against local workers.
09 Apr 2017
H-1B Visa: Cap of 65,000 visas for 2018 already reached
US Citizenship and Immigration Services has already received enough applications for the 65,000 H-1B visas supposed to be issued for the 2018 fiscal year, within five days.
However, there is still no clarity on how it will determine success of applications; in previous years, selections were done through computerized lotteries.
10 Apr 2017
Indian students look to Canada, Ireland amid US immigration crackdown
Amid a strict approach towards immigration by the Donald Trump administration, Indian students, for whom the US has been a prime destination for studies and jobs, are now looking to Canada, New Zealand and Ireland.
A spate in racist attacks has also led to doubts about safety.
In 2015-16, a record 165,198 Indians formed the second-largest international students group in US universities.
US Universities see decline in Indian applications
In a survey, 26% of US institutes reported a drop in applications from India for undergraduate programmes this time, while 15% reported similar trends in graduate programmes. When UK had tightened visa norms, Indian student numbers dropped by half in 2014-15 from 2010-11.