World
USA launches missile strikes in Syrian air base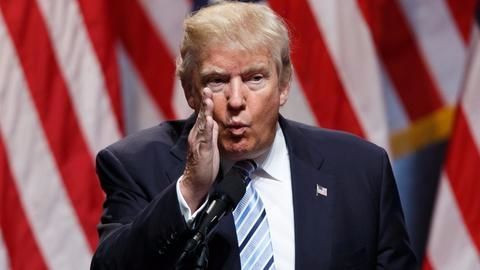 Responding to the usage of chemical weapons on a rebel-held town, the United States of America on Thursday night executed a missile strike at a Syrian air base.
In a televised address, President Trump mentioned that the base was where the chemical attack was carried out from.
The suspected nerve gas attack carried out in Idlib on Wednesday, killed several including, dozens of children.
In context:
Syria war: US launches missile strikes
05 Apr 2017

Suspected chemical weapons attack in Syria kills 70
At least 70 people were killed, including 10 children, in a suspected chemical weapons attack in Khan Sheikhoun in Syria's Idlib province.
The attack was reportedly an airstrike. If confirmed, it would be one of the deadliest chemical attacks in Syria in years.
The US and its allies have blamed Syrian President Bashar al-Assad's regime for the attack.
Assad's military has denied the allegations.
07 Apr 2017

USA launches missile strikes in Syrian air base
Love World news?


Stay updated with the latest happenings.
US actions a huge escalation in Syrian campaign

The missile strikes is the first direct military exchange by the US against the Assad regime in Syria's six-year civil war. It marks a huge escalation in the US' military campaign which the Syrian regime could interpret as an act of war.
Details

Information about the missile strike
According to a senior military official, 59 Tomahawk cruise missiles hit the Al Shayrat airfield in Syria.
Prior to the launching of the missiles, the Pentagon informed Russian military officials about the same.
The airfield was under attack by the missiles by 8.30 pm Eastern Time; the strikes continued for about 3-4 minutes.
The tomahawks were launched from two navy warships.
Escalation

Strike is first direct US military action against Assad regime
The strike is the first direct military exchange by the US against the Assad regime in Syria's six-year civil war.
It marks a dramatic shift Trump's position, who had previously opposed military action in Syria.
However, Secretary of State Rex Tillerson didn't "change in our policy or our posture in Syria."
The Syrian regime could interpret the strike as an act of war.
Pentagon: Strike has "severely damaged" Syrian aircraft

"Initial indications are that this strike has severely damaged or destroyed Syrian aircraft and support infrastructure and equipment at Shayrat Airfield, reducing the Syrian Government's ability to deliver chemical weapons," the Pentagon said.
Love World news?


Stay updated with the latest happenings.
Russia/Iran respond

Assad's allies Russia and Iran condemn American strikes
Russia, an ally of Syrian President Bashar al-Assad, condemned the American strikes, saying it would "inflict major damage on US-Russia ties." The Kremlin said "aggression against a sovereign state in violation of international law."
Iran said it "strongly condemns any such unilateral strikes ... such measures will strengthen terrorists in Syria ... and it will complicate the situation in Syria and the region."
US allies respond

US allies praise Trump, express support following Syria strikes
Saudi Arabia said it "fully supports" the strikes and called Trump's decision "courageous."
Turkey, a NATO member that borders Syria, said it views America's strikes positively and called for the establishment of a no-fly zone and safe zones over Syria.
Israeli PM Benjamin Netanyahu said he supports the "strong and clear message" sent by Trump.
Britain also expressed support for the US strikes.
Syria responds

US strikes kill 6, causes extensive damage to Syrian airfield
The US' missile strikes have killed at least six people and have caused extensive damage to the Shayrat airfield, according to the Syrian army.
President Assad's regime has condemned the American "aggression" as a violation of international law.
It said the strike has made US a partner of "terrorist groups."
The Syrian opposition has welcomed the American strike.
08 Apr 2017

US "disappointed but not surprised" at Russia's response to strikes
Secretary of State Rex Tillerson said America is "disappointed but not surprised" at Russia's response to its missile strike in Syria.
Russia had accused the US of encouraging "terrorists" with its strikes.
Tillerson said this "indicates their continued support for the Assad regime and, in particular, their continued support for a regime that carries out these type of horrendous attacks on their own people."
09 Apr 2017

Japanese PM praises Trump for air-strike call on Syria
Commenting on US's air strikes against Syria after the chemical attack, Japanese PM Shinzo Abe hailed Trump for his "strong commitment" to international and allied security.
In his 2nd call in the last 4 days, Abe stressed on the close alliance between Japan, US and South Korea on N.Korea issue and they agreed to closely observe China's response to Pyongyang's missile.
10 Apr 2017

Haley: Regime change in Syria is inevitable, a priority
Nikki Haley, the US ambassador to the UN said Syrian president Bashar al-Assad's removal from power is a priority and inevitable.
Her statement represents a U-turn in the Trump administration's stance on Assad, two days after the US launched missile strikes against a Syrian airbase.
During his election campaign, Trump had said fighting ISIS and removing Assad at the same time was "idiocy."