Osama's head had to be pieced together: Ex-Navy SEAL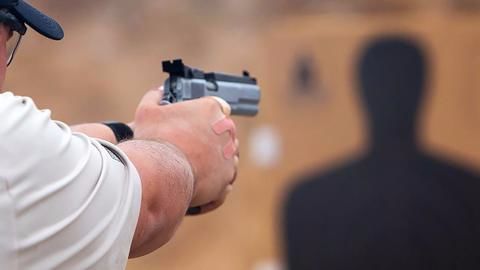 Accounts from the ex-Navy SEAL who claims to have shot Osama, revealed, the Taliban leader's head, shattered by bullets had to be pieced back together for identification.
The revelations were made in a new book "The Operator: Firing the Shots that killed Bin Laden", authored by Robert O' Neill.
The book comes five years after "No Easy Day", authored by fellow SEAL Mark Bissonette.
In context
Bin Laden: Controversy continues 6 years after killing
01 May 2017
Former soldier who claims to have killed Laden recounts mission
Robert O'Neill, former US Navy Seal who reportedly killed Osama bin Laden, has described the moment when he shot him dead in his new book, 'The Operator'.
During the mission, Neill remembers thinking, "This is so cool. We're probably not going to live, but this is historic and I'm going to savour this."
He also describes the killing of Laden's youngest son, 23-year-old Khalid.
About
Osama bin Laden
Born into the wealthy Bin Laden family of Saudi Arabia, Osama bin Laden founded the terrorist organization al-Qaeda in 1988.
He first came to Pakistan to be trained as a mujahid to fight the Soviets in Afghanistan.
Decades later, the network he built in Af-Pak helped him get safe haven after orchestrating 9/11 attack, first openly from Taliban and later, clandestinely in Pakistan.
Love World news?
Stay updated with the latest happenings.
Notify Me
Background
Taking Laden down
US efforts to avenge Osama for 9/11 saw fruition through Operation Geronimo (2 May 2011), orchestrated at Osama's residence near Abbottabad, Pakistan, where he along with a few family members were shot by Navy SEALS.
Hailed as President Obama's major achievement, the authenticity of the operation as well as its conduct have been subjects of interest for conspiracy theorists and legal experts.
Details
O'Neill's account
The Operation involved five or six Navy SEALs alongside O'Neill.
While Osama's son Khalid, armed with an AK-47 was shot in the face on the second floor half landing, two of his wives were shot by O'Neill.
Osama, found alongside his youngest wife Amal was killed within a second with two gunshots to his head.
Killing Osama
O'Neill writes on finding and shooting Osama , "In less than a second, I aimed above the woman's right shoulder and pulled the trigger twice, Bin Laden's head split open, and he dropped. I put another bullet in his head. Insurance."