World
Philippines to hold military drills with the US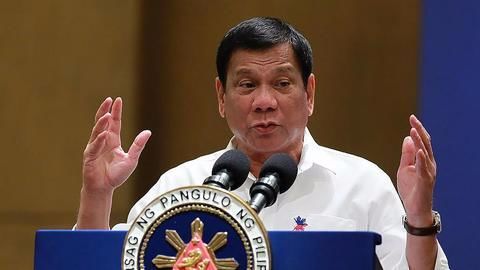 The Philippines military announced it will hold annual exercises with troops from its US ally.
The announcement reaffirms the Philippines commitment to the alliance after bilateral relations had cooled under President Rodrigo Duterte.
Duterte had earlier suggested cancelling the exercises and called for American troops to withdraw from the Philippines.
Duterte is sought to improve relations with the US' biggest regional rival, China.
In context:
US-Philippines relations
06 Sep 2016

Obama cancels meet with Philippines President
In Sep'16, the then US President Barack Obama was scheduled to meet the Filipino President Rodrigo Duterte; this would've been their first meeting.
The meeting was however cancelled after it was reported that President Duterte had used vulgar language in public to describe Barack Obama.
The two were supposed to meet in Laos; however, the meeting has now been postponed indefinitely.
03 Oct 2016

Duterte threatens to end US-Philippines defence pact, war games
In September 2016, President Duterte had threatened to make Philippines-US war games scheduled to be held in October to be the last bilateral military exercise between the allies.
In October, he had warned that he might end a defence pact signed by the Philippines with the US in 2014 which gave the US military greater access to the Philippines.
Love World news?


Stay updated with the latest happenings.
09 Dec 2016

Duterte: Trump makes me feel like a saint
Philippine President Rodrigo Duterte said he felt like a saint after his congratulatory phone conversation with Donald Trump; Trump heaped praises on Duterte for his deadly war on drugs in the Philippines.
He added that Trump also invited him for coffee and discussions at the White House.
This is a significant departure from Duterte's long-standing anti-American stance.
17 Apr 2017

Philippines to hold military drills with the US
Details

Duterte pushing Philippines closer to China
For long, the Philippines and China have sparred over their respective territorial claims on the disputed South China Sea.
However, Duterte has attempted to ease tension by courting China, the US' biggest regional rivals.
He had previously said he would build "new alliances for trade and commerce" with Russia and China and move away from the US.
Duterte's stance on Philippines-US alliance softening

The upcoming Philippines-US military drills indicate the outspoken Duterte's softening stance on the crucial alliance. Duterte had attracted global criticism, including from US lawmakers over his war on drugs which have been ridden with allegations of extra-judicial killings and human rights violations.
Love World news?


Stay updated with the latest happenings.
Details

Drills to focus on disaster management, counter-terrorism
The 10-day exercise, which comprises of counter-terrorism and disaster management drills, begins in May.
"It will be scenario-based like (preparing for) a big storm hitting the Philippines or the possibility of terrorism," a spokesperson for the exercise said, adding that "there will be no more live-fire exercises."
Previous versions of the exercise included protecting or retaking territory, to simulate a possible conflict with China.
Terrorism is the Philippines' biggest threat

Philippines' Defence Secretary Delfin Lorenzana described terrorism as the country's biggest security threat. He said the upcoming exercises would focus on fighting terror. The Philippines has been battling Islamic militants, some of whom have pledged allegiance to ISIS, and pirates in its restive southern territory.