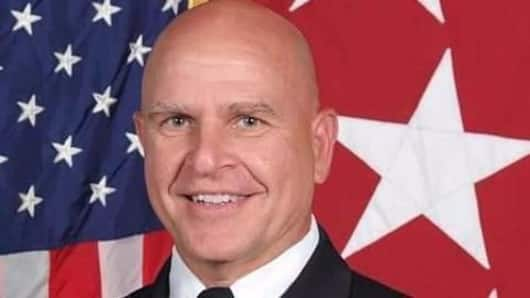 US NSA McMaster: Could take a tougher stance on Pakistan
The US National Security Adviser Lieutenant General HR McMaster reached Islamabad on an unannounced visit.
McMaster earlier stopped in Afghanistan, where he hinted they could take a "tougher stance" on Pakistan, which has long been seen as America's unreliable ally.
The visit was the first by President Donald Trump administration's top member to Pakistan, which was accused of using Taliban as a proxy force.
McMaster's statement
In the interview, McMaster said, "As all of us have hoped for many, many years - we have hoped that Pakistani leaders will understand that it is in their interest to go after these groups less selectively than they have in the past."
McMaster expressed appreciation for Pakistan: US Embassy
Credits:
Coming down heavily on Pakistan in Afghanistan, McMaster said the best way to pursue interests in Afghanistan or anywhere is through diplomacy and not using proxies that engage violence.
McMaster did not give interviews in Pakistan.
However, the US Embassy in Islamabad stated, "General McMaster expressed appreciation for Pakistan's democratic and economic development, and stressed the need to confront terrorism in all its forms."
Love World news?
Stay updated with the latest happenings.
Yes, notify me
McMaster meets PM Sharif and COAS Bajwa
McMaster met with Pakistani PM Nawaz Sharif, Chief of Army Staff General Qamar Javed Bajwa, and top foreign policy and national security officials.
The PM's office stated Sharif conveyed Pakistan's readiness to work with the international community and explore ways to resolve the Aghan crisis.
It added McMaster's delegation included Lisa Curtis, who reportedly was picked as Senior Director for South and Central Asia.
Lisa Curtis: A well-known conservative expert
Lisa Curtis is reportedly a well-known conservative expert, who recently co-authored a paper calling on the US to stop treating Pakistan as an ally and instead "focus on diplomatically isolating" it if it continues to support outfits having links to international terror.
US-led NATO troops at war in Afghanistan
The US-led North Atlantic Treaty Organization (NATO) troops have been at war since 2001 in Afghanistan, after ousting Taliban for refusing to hand over al-Qaeda's Osama bin laden following the US 9/11 attacks.
The US has about 8,400 troops in Afghanistan apart from another 5,000 troops from NATO allies, as negotiation efforts for a lasting peace settlement between Afghanistan and Taliban have failed.
US's recent attack on ISIS triggers global shock waves
Recently, the US military dropped GBU-43/B Massive Ordnance Air Blast (MOAB), nicknamed the "Mother of All Bombs" on the Islamic State outfit hideouts in Afghanistan killing 95 militants.
However, some have condemned the attack, which they called, the use of Afghanistan as a weapon-testing ground.
The airstrike was also criticized as it was against ISIS that isn't considered as big a threat as Taliban.
India, US reaffirm close ties
At the conclusion of US National Security Adviser HR McMaster's meeting with Indian officials, the US issued a statement, reaffirming the close ties it shares with India.
The PMO said both sides sought to "address the challenge of terrorism and to advance regional peace, security and stability."
PM Modi is expected to visit the US soon, for his first bilateral summit with Donald Trump.