World
285 deaths, 1073 injuries during Myanmar's Thingyan water festival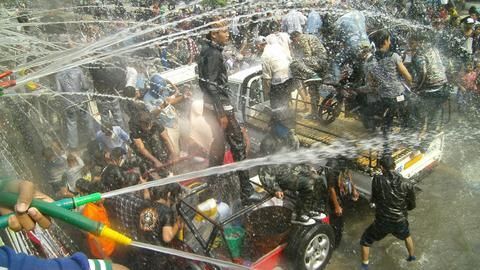 285 people died, while 1073 others were injured during the annual 4-day Thingyan water festival in Myanmar.
A majority of the deaths are attributed to accidents. Over 1200 cases for murder, car accidents, robbery and drug abuse were recorded during the festival.
The commercial capital, Yangon had the most fatalities (44) and recorded the 223 accidents, the highest in the country.
In context:
Deaths at Myanmar's Thingyan Water Festival
Introduction

What is the Thingyan festival?
Thingyan is the Burmese New Year festival that usually falls in mid-April.
It is a Buddhist festival that is celebrated for 4-5 days and the last day is the New Year. All days are public holidays in Myanmar.
People play with water on the first four days, as a metaphor to washing away the sins of the last year.
18 Apr 2017

285 deaths, 1073 injuries during Myanmar's Thingyan water festival
Love World news?


Stay updated with the latest happenings.
Crime rates, fatalities increasing?

During the festival last year, there were 967 crimes, 272 deaths and 1,086 injured, according to statistics from Myanmar's government. This year, though there were less injuries, the country recorded 233 more cases and 13 more deaths as compared to the previous year.