World
UK: May says snap polls will strengthen Brexit hand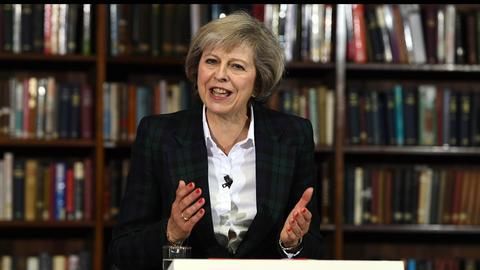 UK Prime Minister Theresa May stated that the snap General Election would help strengthen the need for Brexit. The elections were first scheduled to be held on 8 June.
MPs are set to authorize the snap elections in the House of Commons next week. It requires a two-thirds Commons majority.
Originally the next General Elections were expected in 2020.
In context:
UK snap elections: All you need to know
18 Apr 2017

Theresa May announces UK snap elections
UK Prime Minister Theresa May called for a snap general election on 8 June.
Addressing media outside 10 Downing Street, she said "stability and strong leadership" was the need of the hour in Britain and the elections would help.
Labour leader Jeremy Corbyn too welcomed the elections declaring it was a chance to make a party win that will put "the majority first".
Snap elections

What is a snap election?
A snap election is an early election that takes place before its schedule.
The upcoming general election was slated for 2020 and the last one took place in 2015.
For the snap elections to take place the parliament will have a vote to hold an election, and May will need the backing of two-thirds of MPs in the House of Commons.
Love World news?


Stay updated with the latest happenings.
18 Apr 2017

It's all about Brexit actually!
While stability has been listed as a reason for the elections but the real reason is Brexit.
Prime Minister Theresa May has maintained that the Brexit will happen and without a second referendum.
52% citizens had decided it and she would uphold that.
May doesn't want Brexit to be thwarted by opponents with their game playing, hence the elections will give her full control.
May's logic

Why now? The timing of the snap elections
With the elections out of her way now, if she wins she will have a five-year mandate and no interruptions in the critical Brexit negotiations.
By 2020 elections her position may have weakened and she might have to provide explanations for Brexit compromises.
Moreover, a current win will help her move away from the image of "Cameron's replacement," and her command will be established.
19 Apr 2017

Who all are in the running in these elections?
May's strongest opposition comes from the Center Left Labour party led by Jeremy Corbyn, who has lost much support.
Second in the running is the Scottish National Party that recently became the 3rd largest party.
UKIP, Britain's Eurosceptic and right-wing populist political party and the centrist Liberal Democrats too are vying to get power but they have lost much support since 2015.
Is Theresa May headed towards victory? Polls think so

The latest YouGov poll declared that the Conservative party would win by 44% votes, Labour party 23% votes, Liberal Democrats further behind with 12% votes and UKIP left with 10%. Moreover, 50% said they wanted May as PM and only 14% for Corbyn.
Love World news?


Stay updated with the latest happenings.
19 Apr 2017

UK: May says snap polls will strengthen Brexit hand