Donald Trump's policies reverse Indian preference for US-based grooms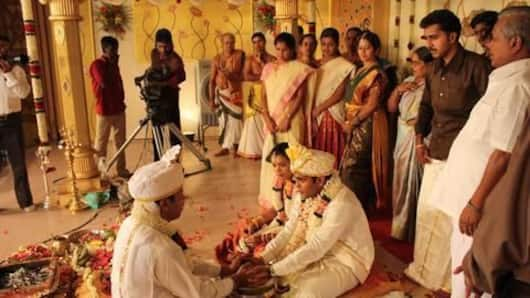 US' tightening of norms on H-1B visas have had surprising effects all over, including on the bustling marriage market in India.
The age-old preference of Indians for NRI grooms has undergone a drastic change as parents as well as prospective brides are now skipping Indian men studying or working in the US.
A spate in racist attacks is likely to strengthen this new trend.
In context
Donald Trump's policies hit the Indian marriage market!
Indians one of the largest migrant populations in the US
A large number of Indians, especially from Andhra Pradesh and Telangana, make their way to the US each year; the Hyderabad consulate of the US Embassy issues the most student visas in the country, and the fifth most globally.
Immigration
Focus shifts to Singapore, Australia amid tighter immigration laws
Lack of job security has shifted the focus of Indian parents to Singapore and Australia - "anywhere other than the US," says Ravi Reddy, 55.
Stricter immigration laws would also imply difficulties for the new partner to move to the US after marriage. "So what's the point in getting married to a groom there?" asks Purnachandra Rao, father of a prospective bride.
Love World news?
Stay updated with the latest happenings.
Notify Me
An increasingly hostile environment accelerates trend
Mira Singh, who was looking for a US-based groom for her daughter, said, "Safety for our children is paramount. I'd much rather have my daughter safe here, even if it means having to compromise on the quality of life NRIs have in the US."
Industry
Big players in Indian marriage market hit
Richa Garg, manager of Shaadi.com, reported the company had witnessed a 25% drop in queries of NRI grooms in the last two months. Though it has been declining since November, the sharpest fall yet came in February.
RoyalMatrimonial.com is witnessing similar trends. Co-founder Gaurav Chhabra said, "Since January, there has been an approximately 50% decline in queries for US-based grooms and brides."
NRIs
On the other side: eligible NRI bachelors in US fret
Meanwhile, Indian bachelors in the US are worried. Chalapathi Rao, who has been searching for a bride since six months, says the responses have reduced.
Pankaj Malhotra is facing a "shocking" predicament: prospective brides' families are asking the groom, a doctor in Texas, to return to India.
However, Rao, employed with the US Health Department since five years, is confident his job is secure.