100-day Rally: Trump misses White House Correspondents' dinner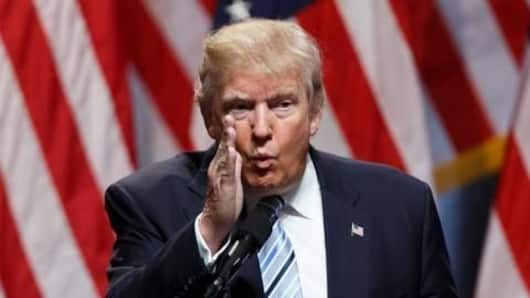 US President Trump addressed a rally to mark his first 100 days in office, in Harrisburg, Pennsylvania.
Speaking at the rally, Trump mocked the White House Correspondents' dinner which he chose not to attend, becoming the second US President after Reagan to do so.
He also mocked the media, saying he would give them a "failing grade" for their poor coverage of his administration.
In context
100 days later, Trump's rants continue
Trump skips Correspondents' dinner
"There's a large group of Hollywood actors and Washington media consoling each other in a hotel ballroom in our nation's capital right now...I could not possibly be more thrilled to be more than 100 miles away from the Washington-swamp, spending my evening with you."
Achievments
Trump lists out achievements
Trump said "We are keeping one promise after another...delivering every single day".
He said confirmation of Supreme Court Justice Neil Gorsuch helped him remove redundancies in environmental and business regulations.
He said enhanced security helped bring down illegal border crossing.
He also listed the approval of the Keystone XL and Dakota Access pipelines as major victories for his administration.
Love World news?
Stay updated with the latest happenings.
Notify Me
Trump lauds China's efforts against North Korea
In a remarkable departure from his usual strong anti-China stance, Trump lauded President Xi Jinping's help in reigning in North Korea's nuclear ambitions. He said "I don't think right now is the best time to call China a currency manipulator."
Failures
Failures are because of Democrats of course
Speaking about not having repealed Obamacare yet, Trump blamed Democrat legislators for lack of support. However, he assured crowds that it would happen.
The same excuse was propped up for not having built the border-wall, along with the same reassurance.
He also said his immigrant ban had been blocked by courts, but he would find a way around them.