World
India, Afghanistan to ink Motor Vehicles pact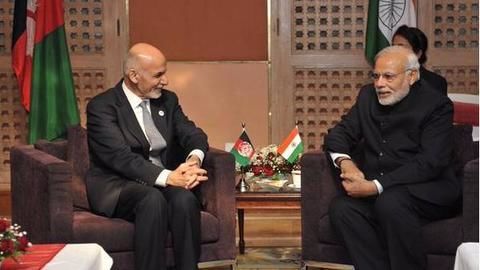 Sources said India and Afghanistan are likely to ink a motor vehicles transit pact to better facilitate road transport and trade of goods between the two countries.
Through the pact, Afghan vehicles can enter India through the Attari check-post and come to Delhi. The move will improve regional-connectivity.
Afghan foreign minister Salahuddin Rabbani will visit India soon to ink the pact.
In context:
Indo-Afghan Motor Vehicles pact to be signed
SAARC

Improving connectivity between SAARC countries
In the 2014 SAARC summit, a multilateral SAARC Motor Vehicles Agreement was proposed, which would allow hassle free transit of motor vehicles between all SAARC nations, improving connectivity and trade.
But, Pakistan expressed reservations about the agreement and hence it was not fully implemented.
However, India then went on to sign similar bilateral agreements with Nepal, Bhutan and Bangladesh.
The Afghanistan-Pakistan trade and transit pact

Afghanistan and Pakistan signed a trade and transit pact allowing each others' vehicles to travel freely between them. However, Pakistan has been reluctant to allow Afghan vehicles access to the Indo-Pak border. Similarly Afghanistan is trying to restrict Pakistan's access to Central

Asia

through Afghanistan.
Love World news?


Stay updated with the latest happenings.
02 May 2017

India, Afghanistan to ink Motor Vehicles pact
Who will benefit from the agreement?

Afghan farmers will be able to sell their produce in Indian markets and transport them more easily by allowing access to the Indian side, instead of only till Wagah. The pact will also significantly improve Indo-Afghan bilateral trade which is currently at $684 million.
Isolating Pakistan

India trying to isolate Pakistan in SAARC
Since India already has bilateral agreements with Nepal, Bhutan and Bangladesh, it is keen on getting the four-way road connectivity operational.
If the India-Afghanistan pact works out, then Afghanistan would also be part of the arrangement, leaving Pakistan less integrated into the SAARC trade system.
The Indo-Afghan pact will put significant pressure on Pakistan to reassess its position on the matter.
Iran is in on it too?

Sources said an Indian delegation will soon visit Tehran to iron out protocols of the already signed India-Afghanistan-Iran Trilateral Transport and Transit corridor agreement. Under the agreement, Indian goods will enter Iran through Chabahar, from where it will be transported by road to Central Asia.