World
Venezuelan Unrest: President Maduro wants to rewrite constitution amid protests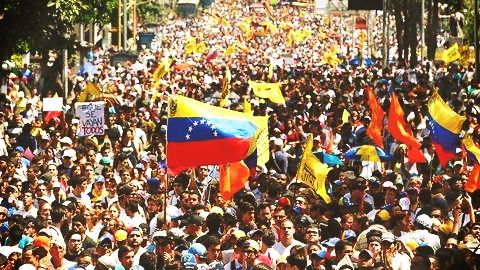 Venezuela's embattled President Nicolas Maduro announced the creation of a new popular assembly that can rewrite the constitution.
He triggered an article of the constitution to create a super-body called "constituent assembly".
The opponents denounced it as a "power-grab" to suppress the month-long anti-government unrest.
Maduro told supporters in downtown Caracas he doesn't want a civil war; elsewhere, security forces fired teargas at protesters.
In context:
Venezuela Crisis: Protests against President Nicolas Maduro
Introduction

Government supporters and opponents
Venezuelans are split into supporters of United Socialist Party (PSUV), and those who want to end the 18-year socialist rule.
After socialist President Hugo Chavez's death in 2013, PSUV's Nicolas Maduro became the President.
Opponents say after PSUV came to power it eroded democracy and mismanaged the economy.
Socialists accuse the opponents of exploiting the poor and allege they are backed by the US.
2017

Supreme Court dissolves National Assembly leading to protests
Venezuelan Supreme Court on 29 March took over the powers of opposition-controlled National Assembly, dissolving it.
Protests erupted and opponents said the ruling took Venezuela closer to "dictatorship" under President Maduro.
The court argued National Assembly disregarded its previous verdicts; the ruling was reversed later.
Opposition leader Henrique Capriles's 15-year ban from public office on 7 April further led to violent civil unrest.
Love World news?


Stay updated with the latest happenings.
03 May 2017

Venezuelan Unrest: President Maduro wants to rewrite constitution amid protests
Constituent Assembly

Can dissolve public powers and call general elections
The constituent assembly can dissolve public powers and call general elections, echoing a previous assembly created in 1999 by Maduro's predecessor Hugo Chavez.
Maduro said only half of the 500-member assembly or less would be elected and political parties wouldn't participate.
Opponents fear the new assembly will be filled with supporters and elected seats manipulated by giving weight to pro-government unions and workers.
National Assembly

Sidelining the present opposition-led National Assembly
President Maduro told supporters the constituent assembly is an attempt to sideline the opposition-led National Assembly and avoid elections amid recession and protests.
The opposition is demanding elections to end the socialists' 18-year rule.
National Assembly President Julio Borges urged people to rebel.
He added, "This is a scam to deceive the Venezuelan people with a mechanism that is nothing more than a coup."
Love World news?


Stay updated with the latest happenings.
Unrest

President Maduro alleges a US-backed coup plot
Since the anti-Maduro unrest began in March-end, 29 people died, over 400 were injured, and hundreds were arrested.
President Maduro alleged a US-backed coup plot while opponents say he has become a "tyrant" and wrecked the economy.
Tulane University Sociologist David Smilde said, "It (constituent assembly) is a transparent attempt on the part of the government to skirt elections it knows it will lose."
Price freezes

Maduro ordered cabinet members to analyze nationwide price freezes, which are seen as the root cause of shortages as they disincentivize businesses from producing amid inflation. Millions of people are struggling to eat three square meals a day or afford basic medicines in Venezuela.