Israel displays air power: Debuts F-35s at air show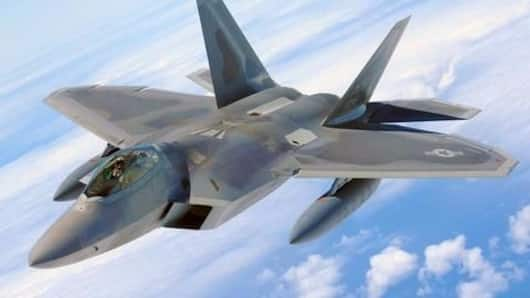 Israel proudly displayed its newly acquired F-35 stealth fighters in an air show held in connection with its 69th independence day celebrations.
Israel has received 5 F-35s from Lockheed Martin, US-based aerospace and defence company since December and plans to acquire more.
It considers these jets crucial in maintaining military superiority over the volatile Middle-east and its arch rival, Iran in particular.
In context
F-35s: Israel's new weapon in the skies
About
Israel's defence capabilities
Despite of its geographically small size, Israel is considered to be a military superpower. Israel's indigenous military technology is considered high quality and has worldwide consumers including India.
Israel is further regarded to have the world's most technologically advanced armoury and effective forces.
Some of the well known weapons include, the Jericho ballistic missiles and the Israeli Air Force's advanced variant of the F-15.
Details
What are the terms of Israel's deal with Lockheed Martin?
Israel's arrangement with the US makes it the only country allowed to customize the plane.
It plans to acquire 50 jets in total; out of which the first batch of 33 costs $110 million.
It aims at putting its first batch of jets to work this year and to become the first country after the US to have "an operational F-35 squadron".
Love World news?
Stay updated with the latest happenings.
Notify Me
What are F-35s?
They are fifth generation aircrafts belonging to the Lockheed Martin F-35 Lightning II family. F-35s are single seaters equipped with single engines and are characterized as "all weather stealth multi role fighters" and can perform both ground attack and air defense manoeuvres.
Features
What are the features of F-35?
Known as "Adir" in Israel F-35 jets are equipped with advance stealth capabilities enabling pilots to circumvent advanced missile systems. They can further travel at a super sonic speed of Mach 1.6 (1900 kilometre/hour) and is capable of carrying a whole range of weaponry.
The jet further comes with excellent reconnaissance capabilities including thermal and night vision and 360 degree views from cameras.
F-35s and Israel's goals
Prime Minister Benjamin Netanyahu said Israel's goal was to gain "supremacy in every theater...... in air, sea, ground and cyber-world. Israel is taking off to new heights, and when our pilots in the Adir jets will fly high, we will watch them with pride."