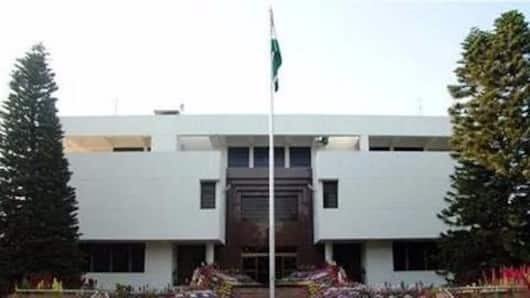 Pakistani man alleges Indian High Commission detained newly-wed wife
A Pakistani man has alleged that the Indian High Commission in Islamabad detained his newly-wed wife when they went to apply for visas.
Tahir and Uzma met in Malaysia and fell in love. After Uzma travelled to Pakistan via Wagah, they got married on May 3.
When they went to the High Commission, officials took her away for questioning; she allegedly never returned.
Allegations against the Indian High Commission in Islamabad
When Tahir asked officials about Uzma after waiting for several hours, they allegedly said she wasn't there. He also alleged the Commission had collected their phones after they entered, and then refused to return them. Tahir has filed an FIR at the Secretariat Police Station.
Love World news?
Stay updated with the latest happenings.
Yes, notify Me
Indian woman staying at mission on own will, says India
New Delhi has denied the allegations and said that the woman had approached officials asking for help; she reportedly wanted to be repatriated to India after discovering Tahir already had a wife and four children.
She is now staying there on her own will, the High Commission said.
Earlier, Pakistan Foreign Ministry spokesperson Nafees Zakaria said Uzma was "stranded" inside the building.
Foreign ministries cooperating with each other to resolve matter
Foreign ministries of the two countries are cooperating to resolve the matter. The Indian High Commission is providing necessary consular assistance to Uzma; it is also in touch with her family back in India.
Indian diplomat's phone seized by Islamabad HC staff
Islamabad HC staff seized the mobile phone of First Secretary of Indian High Commission Piyush Singh, when he had gone there over Uzma's petition.
Uzma, an Indian national, has alleged her Pakistani husband, who forced her to marry him at gunpoint, had confiscated her documents.
On her behalf, lawyer Barrister Malik Shah Nawaz Noon and Singh had petitioned the court for duplicate travel documents.
Uzma, Indian woman forced to marry Pakistani man, returns home
Uzma, an Indian woman forced to marry a Pakistani man, returned home today, a day after the Islamabad HC approved her departure.
The court also returned her travel documents, which her husband Ali had allegedly confiscated. He had submitted them to the court when it asked.
Foreign minister Sushma Swaraj tweeted, "Welcome home India's daughter. I'm sorry for all that you have gone through."