Hamza bin Laden vows to carry on Osama's mission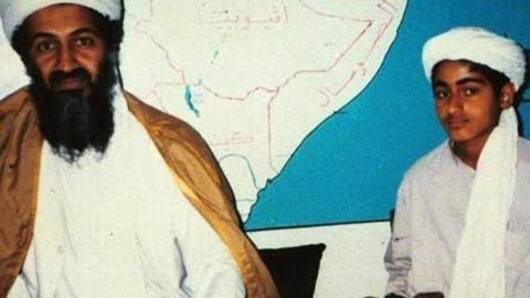 Letters written six years ago by then 22-year-old Hamza to his father Osama bin Laden show the young man is "bent on avenging" his father.
He is also poised to command a larger, stronger al Qaeda, a former FBI agent familiar with the letters said.
The documents were seized during the raid that led to the death of Laden, and have now been declassified.
In context
Hamza: The heir of the Laden family business
About
Who was Osama bin Laden?
Born into the wealthy Bin Laden family of Saudi Arabia, Osama bin Laden founded the terrorist organization al-Qaeda in 1988.
He first came to Pakistan to be trained as a mujahid to fight the Soviets in Afghanistan.
Decades later, the network he built in Af-Pak helped him get safe haven after orchestrating 9/11 attack, first openly from Taliban and later, clandestinely in Pakistan.
Taking Laden down
US efforts to avenge Osama for 9/11 saw fruition through Operation Geronimo (2 May 2011), orchestrated at Osama's residence near Abbottabad, Pakistan, where he along with a few family members were shot by Navy SEALS.
Love World news?
Stay updated with the latest happenings.
Notify Me
Sentiments
Hamza bin Laden was in awe of his father
Ali Soufan, the former agent who was the lead al Qaeda investigator after 9/11, said it was clear from the letters that Hamza, who hadn't seen his father in years, adored him and sought to carry on his ideology.
Even in his videos, he uses sentences and words that Osama did.
In January, the US classified Hamza a "specially-designated global terrorist", like his father.
Threat
'America, we are coming, and you will feel it'
On the '60 Minutes' program on CBS News, Soufan described a letter from Hamza: "He tells him that...he remembers every look...every smile you gave me, every word you told me."
"The path of jihad for the sake of God is what we live."
In his four audio messages, Hamza warned Americans: "We're going to take revenge for what you did to my father...Iraq... Afghanistan."