Concerns over CPEC: India to not attend China's OBOR summit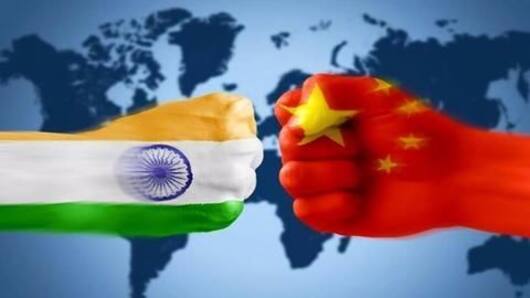 Despite China's efforts to coax India into attending the One Belt One Road Forum, India clarified that it would boycott the summit.
India's decision hinged on sovereignty concerns related to the China Pakistan Economic Corridor, which passes through Gilgit-Baltistan in Pakistan-occupied Kashmir.
"No country can accept a project that ignores its core concerns on sovereignty and territorial integrity", noted the MEA.
In context
All about 'One Belt One Road' summit
The Belt and Road Forum
Over 28 country delegations from Asia, Africa, Europe and Oceania are expected to participate in BRF, scheduled on 14-15 May, 2017. It is purported to hold a plenary session and six parallel thematic sessions and is likely to formulate action plans for infrastructure projects.
About
What is OBOR?
The One Belt One Road Initiative, later renamed the Belt and Road Initiative, has two components: a land based Silk Road Economic Belt and a sea based Maritime Silk Road.
It aims to connect Asia and Europe through a network of industrial and trade corridors, enhancing Eurasia's connectivity with China.
Through OBOR, China plans to boost international influence and achieve industrial capacity co-operation.
Love World news?
Stay updated with the latest happenings.
Notify Me
Where does the China Pakistan Economic Corridor figure?
CPEC is regarded as the link between the land-based and sea-based routes within OBOR. It includes multi-billion dollar projects aimed at improving Sino-Pak connectivity and boosting trade, and plans for energy pipelines and road- railway linkages between Gwadar and Karachi in Pakistan to Western China.
Background
Conflicting territorial claims
India and China, as rising military and economic powers, have been competing for influence in both land and maritime domains, with China intending to confine India to its own backyard.
China claims Arunachal Pradesh as Southern Tibet and further aims to use Pakistan to keep India distracted.
In December 2014, it closed the strategic Khunjerab Pass, referring to Gilgit-Baltistan as a part of Kashmir.
Reasons
Why is China pressing India to join OBOR?
China has been aggressively lobbying India and other countries to participate in the Forum, which would help Xi Jinping strengthen his power base before he commences his second term as President.
China finds India's reluctance as a hurdle in getting other South Asian countries including Nepal, and Bhutan on board and believes India's participation would make OBOR more attractive to its South Asian neighbours.
China's last minute proposals
In an attempt to allay India's concerns, Chinese Ambassador Luo Zhaohui conveyed that China was opening to renaming the CPEC. He further proposed to resume negotiations on the China-India Free Trade Agreement and explore the feasibility of synchronizing India's Act East Policy with OBOR.
India explains
What is India's stance on the issue?
Responding to a query, the Ministry of External Affairs spokesperson Gopal Baglay stated that they have been urging China "to engage in a meaningful dialogue on its connectivity initiative."
He also said that India believes, connectivity initiatives should be based on universally accepted international norms and rule of law and principles of financial responsibility aimed at long term welfare of communities.
Conclusion
What 's really on India's mind?
India maintains that PoK is an internationally recognized bilateral territorial dispute. India is legally right to cite sovereignty concerns as, India and China mutually agreed upon "mutual non-interference in each others' internal affairs", as part of the Panchsheel Treaty, 1954.
India could also be using it to manage increasing discords with China, including China's opposition to India's NSG membership and aggravating territorial disputes.