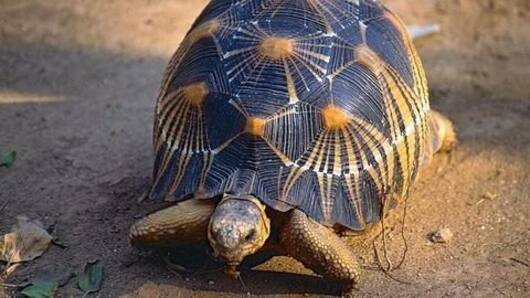 300 endangered tortoises worth $300,000 seized at Kuala Lumpur airport
Malaysian authorities managed to foil a smuggling attempt and seized 330 of the most endangered tortoises at the Kuala Lumpur International Airport (KLIA).
The live ploughshare and radiated tortoises, worth $276,784, had been brought from Madagascar on an Etihad flight.
They were found inside five crates, which had been labeled "stones"; the address of the recipient was also found to be incorrect.
This came after an Indian smuggler's arrest in Malaysia
Last week, the Wildlife Crime Control Bureau of India helped Malaysia authorities nab an Indian smuggler of turtles in Kuala Lumpur. He was identified as Fakharuddin Ali Ahamed Habeeb, a Chennai resident. 55 rare and endangered turtles were recovered from his possession.
Authorities investigating where the tortoises were being sent
KLIA Customs (Enforcement and Compliance) Deputy Director Abdull Wahid Sulong reported the black market price of a ploughshare tortoise was $4,000, and that of an Indian Star tortoise was $1,000; both species were seized at KLIA.
However, authorities are unsure if they were brought for sale in Malaysia, or if they were on their way to some other destination.
Love World news?
Stay updated with the latest happenings.
Yes, notify Me
Ploughshare tortoise smuggling fourth biggest international crime
Ploughshares are highly in demand due to their exquisite shells. It is estimated only 500 survive after extensive smuggling. Most exported tortoises find their way to South East Asia. The smuggling ring, worth $19bn annually, is the fourth biggest after drugs, arms and human trafficking.