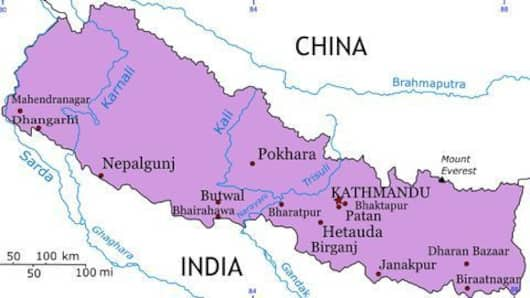 Nepal local body elections- UML, Nepali Congress currently leading
As results are coming in of the first round of Nepal's local polls, the main opposition party, Communist Party of Nepal (Unified Marxist-Leninist) is currently leading, with the Nepali Congress close behind.
As per the current vote tally across 283 local level units, the UML and Congress have already won 48 and 42 seats respectively, with the Communist Party of Nepal (Maoist-Centre) placed third.
Why are these elections important?
Credits:
Nepal suffered civil war waged by Maoists from 1996 to 2006, until the end of the monarchy, in which more than 17,000 people are said to have been killed. Nepal has continued its quest for democracy ever since.
Although a consensus was tried to arrive at through a 2015 constitution, the Madhesis rejected the same alleging it concentrated power in hands of only elites.
Local elections in Nepal
The elections are the first of its kind to be held since 1997, coming after the constitutional amendments of 2015.
The polls are scheduled to be conducted in two phases on May 14 and May 30, covering 17 cities, 241 municipalities and 486 village councils.
The Madhesis have vowed to oppose the polls if their demands for constitutional amendments are not fulfilled.
Love World news?
Stay updated with the latest happenings.
Yes, notify me
Why are the Madhesis opposing the elections?
Madhesis reside in Nepal's Himalayan foothills, located close to the Indian border. They oppose the 2015 constitutional amendments, as they contend the amendments do not adequately represent them. Nepal tabled new amendments in April 2017 in an attempt to appease them ahead of elections.
What is happening on the ground?
The polls saw a voter turnout of 73% to vote for 49,000 candidates.
UML is leading in 57 seats including the metropolitan states of Kathmandu, Pokhara and Lalitpur, while the Nepali Congress has a lead in 51 seats, performing well in rural areas.
Nepal's Chief Election Commissioner, Ayodhee Prasad Yadhav announced that the first round results would be delayed for another week, angering citizens.
What does this mean?
With Madhesis opposition standing strong, it is currently impossible to say if the elections could institute a stable local governance set up in Nepal without sufficient assurances on enacting newer, acceptable constitutional amendments.
Moreover, an UML victory could further intensify Nepal's Chinese tilt, with China using both Pakistan and Nepal to push against India on its Eastern and Western fronts.