World
Trump kick starts process to renegotiate NAFTA trade deal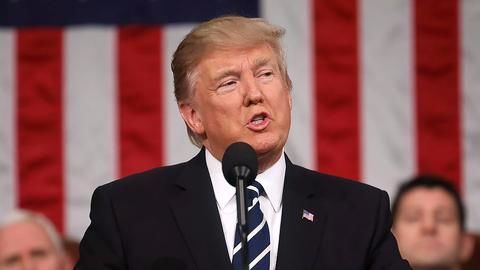 The Trump administration has formally informed the US Congress that it intends on renegotiating the North American Free Trade Agreement (NAFTA) with Canada and Mexico.
The letter to Congress takes forward Trump's long-time campaign promise to reform the deal signed in the 1990s.
Trump had previously threatened to cancel the trade deal, which he described as a job "killer" and "a total disaster."
In context:
Trump triggers NAFTA renegotiations
27 Apr 2017

Trump tells Canada and Mexico that US isn't terminating NAFTA
On April 27, President Donald Trump told Canadian PM Justin Trudeau and Mexican President Enrique Pena Nieto that America won't be leaving the North American Free Trade Agreement (NAFTA).
Trump instead called for a renegotiation of NAFTA, the White House said.
During his election campaign, Trump had been critical of NAFTA and threatened to terminate the agreement.
What is NAFTA?

NAFTA was signed by US President Bill Clinton in 1993 and implemented in 1994. The agreement eliminated tariffs on most goods traded between US, Canada and Mexico and expanded trade among them.
Love World news?


Stay updated with the latest happenings.
19 May 2017

Trump kick starts process to renegotiate NAFTA trade deal
Details

What the letter to Congress states
The letter to Congress by US Trade Representative Robert Lighthizer said the Trump administration hopes to increase economic growth and provide higher-paying jobs by modernizing NAFTA.
The letter raises several issues, such as digital trade and environmental practices, but doesn't provide specific details on what changes would be made to the deal.
The letter triggers a 90-day period for renegotiation talks to begin.
Trump brings change

US commerce secretary says NAFTA has decimated factories, industry
The goal of the new NAFTA talks would be to find "solution that is both fair and beneficial for all parties," said US Commerce Secretary Wilbur Ross.
"Since the signing of NAFTA, we have seen our manufacturing industry decimated, factories shuttered, and countless workers left jobless," he added. "President Trump is going to change that."
Senior democrat slams Trump's letter for being "vague"

"The President's vague NAFTA letter is a stark contrast with the aggressive promises he made to hard-working families during the campaign," said House Democratic leader Nancy Pelosi. "For all his rhetoric, President Trump looks to be sorely disappointing American workers on trade."
Love World news?


Stay updated with the latest happenings.
Explained

Tensions with Canada mount due to Trump's tightening trade restrictions
Trump enforced tariffs on Canadian lumber and slammed Canada over dairy products pricing.
The US Commerce Department said on May 18 that it would investigate Boeing's claims that its Canadian aerospace rival Bombardier was selling planes at a lower price than American ones through unfair taxpayer subsidies.
Canada responded by saying it may reconsider plans to buy 18 Boeing F/A-18 Super Hornet fighter jets.
Canada says renegotiation an opportunity to update NAFTA

Canada said it remains steadfastly committed to free trade in the North American region." It said the renegotiation "offers us an opportunity to determine how we can best align NAFTA to new realities." Mexico said it expects a "constructive" negotiation.