World
Kulbhushan Jadhav's mercy plea rests with Pak's Army Chief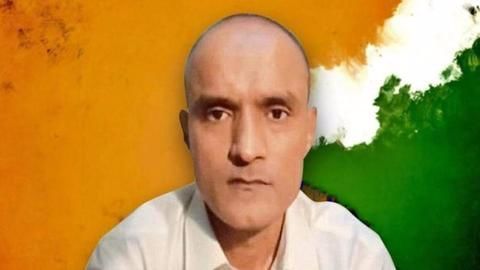 Indian national Kulbhushan Jadhav's appeal for mercy petition is being reviewed by the chief of Pakistan army General Qamar Javed Bajwa, said reports.
Chief of Pakistan army's media wing Inter-Services Public Relations, Major General Asif Ghafoor said the decision will be taken on the basis of merit and justice.
He added that evidence against the former Indian Navy officer is being reviewed.
In context:
The Kulbhushan Jadhav case: The story so far
Arrest

Kulbhushan Jadhav's arrest
Born on 16th April 1970, Kulbhushav Jadhav is an Indian national who was arrested in Pakistan on 3rd March 2016 on charges of espionage and terrorism near the Pakistan-Iran border.
A couple of weeks later, on 24th March 2016, Pakistan alleged that Jadhav was an agent working for the Research and Analysis Wing (R&AW), India's intelligence agency.
India's response

India's response to Pakistan's allegations
India dismissed all claims that Jadhav was a R&AW agent.
Instead, India acknowledged that Jadhav was a former Indian Navy officer who took voluntary retirement in 2002, and had had no links with the Indian government ever since.
India held that Jadhav owned a cargo business in Iran and operated out of the Bandas Abbar and Chabahar ports.
Love World news?


Stay updated with the latest happenings.
ICJ developments

India approaches ICJ; ICJ stays execution order
Following Pakistan's execution order, India immediately approached the International Court of Justice (ICJ) situated in The Hague, Netherlands.
On 26th April, Pakistan denied India its 16th request for consular access to Jadhav.
On 8th May, India moved the UN seeking justice for Jadhav.
On 9th May, the ICJ advised Pakistan not to act till Jadhav's case was heard in the ICJ.
ICJ verdict

The ICJ orders Pakistan to stay Kulbhushan Jadhav's execution
The ICJ heard Jadhav's case on 15th May with India being represented by Harish Salve and Pakistan by Khawar Qureshi.
After hearing the case, the ICJ said that it would announce its verdict as soon as it could.
The verdict came on Thursday night, with the international court ordering Pakistan to stay Jadhav's execution until further notice by the ICJ.
Actions

Meanwhile, Pakistan is considering visa for Jadhav's mother
With tensions simmering between India and Pakistan, the Pakistan government finally said that it is considering India's request to grant a visa to Kulbushan Jhadav's mother, Avantika Jadhav.
The development came three days after EAM Sushma Swaraj vented out on Twitter that Pakistan was yet to give a visa to Jadhav's mother.
17 Jul 2017

Kulbhushan Jadhav's mercy plea rests with Pak's Army Chief
Love World news?


Stay updated with the latest happenings.
Consequences

What other options does Jadhav have?
When Jadhav's earlier plea was rejected by the military appellate court, he had filed for a mercy petition to Pak COAS as reported by the Inter-Services Public Relations (ISPR) on June 22.
Reportedly, if the army chief now declines his appeal, Jadhav would still have another chance.
He would still be eligible under Pakistani law to make a request to President Mamnoon Hussain.
Defence experts say

Pak realizes case against Jadhav is sham: Defence Experts
Defence expert PK Sehgal said that Pakistan realizes that the case against Kulbhushan Jadhav is a fake military trial. He also said that Pakistan was trying to mislead the International Court of Justice (ICJ).
Another defence expert Praful Bakshi said that Pakistan cannot take the ICJ's stand on Jadhav's matter lightly as it's a world body.