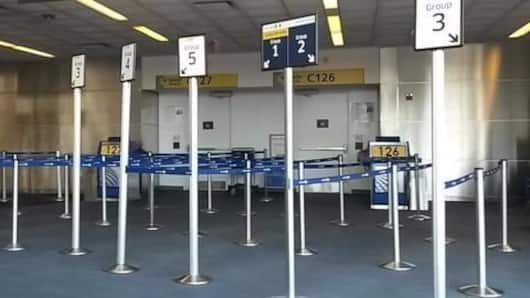 Engine fire prompts Newark Airport shutdown
Newark Liberty International Airport in New Jersey was temporarily shut down after a United Airlines aircraft's engine caught fire.
Emergency services were deployed at the runway and the airport was reopened an hour later. The airport's Twitter handle said it was "closed due to deployment of emergency chutes."
The airport authorities clarified that there were no injuries or casualties.
How did the incident occur?
Credits:
United Airlines flight 1579, bound for San Francisco with 124 passengers and 7 crew members was taxiing on the runway, ready for take off.
However, the air traffic control tower notified the pilots that there were flames coming from one of the engines.
The pilots then deployed the slides and commenced evacuation of the plane.
United Airlines makes statement
Taking to Twitter, United Airlines said "At this time we have a report of only one minor injury. Customers are being transported back to the terminal. We are working to get our customers to San Francisco as soon as possible."