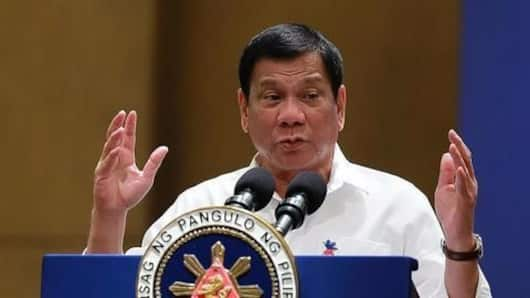 Philippines declares martial law following clashes with extremists
Philippine President Rodrigo Duterte has declared martial law in the violence-prone southern island of Mindanao.
The move comes after nearly 100 Islamist militants clashed with government troops in the city of Marawi in Mindanao, leaving three security personnel dead.
Martial law came under immediate effect and will last 60 days. However, Duterte warned it could last for a year if necessary.
Why has martial law been declared?
The clashes between government forces and Maute, an ISIS affiliate, began in Marawi on May 23.
A top Filipino official said fighters had gained control of several government buildings and had set fire to others, including a church and a school.
Reportedly, the militants took over a medical center where they replaced the Filipino flag with a black, ISIS-type banner.
3 government troops killed, 12 injured in clashes
The clashes have left three government troops dead and another 12 injured.
"Our operation is still ongoing in Marawi City and sporadic fighting is still continuing," the Filipino military said. Military reinforcements are expected.
Marawi's 200,000 or so residents took shelter in their houses overnight. According to photos uploaded on social media, a number of residents have tried evacuating the city.
Love World news?
Stay updated with the latest happenings.
Yes, notify me
ISIS threatens large scale offensive in Marawi
Mindanao is home to a sizeable Muslim population while the rest of the Philippines is predominantly Catholic.
Islamist rebel groups in Mindanao are seeking autonomy from the Filipino government.
Militant groups such as Maute and Abu Sayyaf have pledged allegiance to ISIS.
ISIS has announced that its fighters will "launch a wide-scale offensive on positions of Philippine troops in the city of Marawi."
Duterte cut short his visit to Russia over clashes
The clashes in Marawi prompted Duterte to cut short his trip to Russia. He met Russian President Vladimir Putin on May 23 rather than May 25 as scheduled earlier.
Duterte told Putin that the Philippines needs more modern weapons to counter ISIS and other militant groups.
The Philippines is a US ally. However, Duterte has attempted to forge closer ties with China and Russia.
Duterte draws comparison to dictator Marcos in statement
Martial law empowers the military to enforce order and detain people for long periods without charge.
Under Philippines law, martial law can't be instituted for over 60 days.
However, Duterte said martial law could last for over a year and said it would be similar to former dictator Ferdinand Marcos's rule.
Marcos's rule, which ended in 1986, was marked by abuse, violence and corruption.