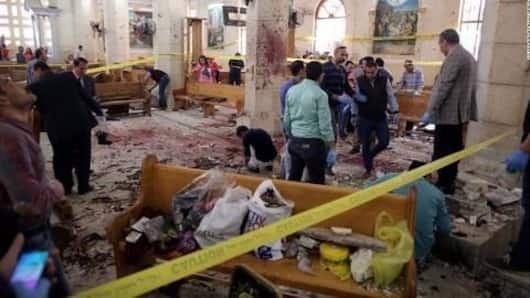 Attack on bus carrying Coptic Christians in Egypt kills 26
At least 26 people were killed and 25 injured after unidentified gunmen opened fire on a bus carrying Coptic Christians near the central Egyptian city of Minya, according to officials.
The dead and injured include women and children, some of whom are in critical condition.
Coptic Christians have for long faced persecution and discrimination in the Muslim-majority Egypt.
What we know so far about the attack
Officials said the bus was traveling to a monastery in Minya when it was attacked by gunmen on a desert road around 100 km away from the city. Nearly 50 ambulances have been rushed to the scene. No group has claimed responsibility for the attack.
Attacks on Coptic Christians have spiked since Mubarak's ouster
Coptic Christians constitute around 10% of Egypt's 91 million population.
Dozens of them have been killed in sectarian violence which has spiked since former dictator Hosni Mubarak ouster in 2011.
The attack comes as Egypt continues to remain under a three-month state of emergency following two ISIS attacks on Coptic churches last month.
An attack on a Coptic church in December left 25 dead.