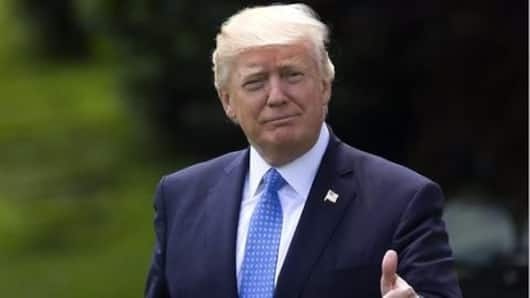 Donald Trump condemns Oregon stabbing
US President Donald Trump has condemned the fatal stabbing of two men who were attempting to stop an incident of racial abuse aboard a commuter train in Portland, Oregon.
He took to Twitter days after the incident, calling it "unacceptable." His administration came under criticism for "encouraging" such behaviour.
Several human rights groups had lambasted the administration for failing to contain racial-tensions.
The incident
Credits:
On 27 May, sources said that a man was racially abusing two women who appeared to be Muslims on a train at Hollywood Transit Station in Portland, Oregon.
When the man turned aggressive, other commuters intervened, and were attacked by him who killed two and seriously injured another.
The assailant, identified as Jeremy Joseph Christian has been charged with aggravated murder and other charges.
Assailant was history-sheeter, wanted to kill Muslims
Authorities said that the assailant had a history of violence and was a convicted felon. Witnesses said the attacker "was saying that Muslims should die. That they've been killing Christians for years."
Love World news?
Stay updated with the latest happenings.
Yes, notify Me
FBI conducting investigations
The FBI said they were investigating the case to ascertain if there was any racial motivation for the crime so they can charge the attacker with terrorism or under hate crime legislation.
Meanwhile, sympathizers set up a GoFundMe account for the families of the victims, which has already raised over $240,000.
Another account set-up for the injured man has raised over $170,000.
Advocacy groups pressure Trump administration
Several advocacy groups including the Council on American-Islamic Relations called on Trump to condemn the attacks and lambasted his silence on the issue. They highlighted that anti-Islamic sentiments and crime have risen by 50% in the last one year.
Oregon stabbing: Man who killed 2 appears in court
Jeremy Joseph Christian, who killed two and injured one on an Oregon train in an apparent hate crime, appeared in court on May 30, three days after the incident.
He is facing charges of murder, attempted murder, intimidation and more.
In court, he shouted slogans like: "You call it terrorism. I call it patriotism."
The man who had been injured was also in court.