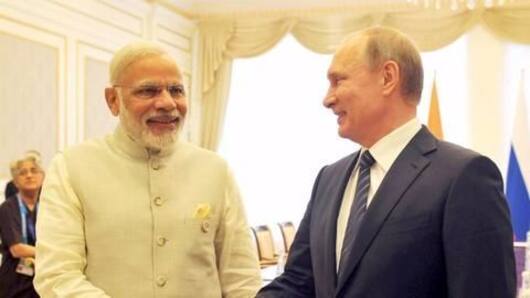 Modi's Russia visit: India seals Kudankulam deal, SCO membership
PM Modi and Russian President Vladimir Putin finalized the deal to construct units 5 and 6 of the Kudankulam Nuclear Power Plant (KNPP).
Along with inking five other pacts, Modi and Putin discussed plans to take energy and strategic ties forward.
The PM is now set to undertake a much anticipated visit to the US on June 26.
What context is this happening in?
Credits:
PM Modi is currently visiting Russia as part of his four-nation Europe visit, after having completed successful trips to Germany and Spain.
PM's visit also coincides with the 70th anniversary of India-Russia diplomatic relations. Kudankulam deal was expected to be a key takeaway.
The visit looks towards reaffirming ties in the background of India's US tilt and Russia's growing affinity to China and Pakistan.
Don't worry about Pakistan, we're still friends: Putin to India
Allaying India's concerns on growing Russia-Pakistan defence ties, Putin stated, "Russia does not have a tight military relationship with Pakistan". He further noted that friendship with India cannot be diluted.
Love World news?
Stay updated with the latest happenings.
Yes, notify me
Kudankulam Deal: What has happened so far?
The KNPP, built by the Nuclear Power Corporation of India Ltd. (NPCIL) in collaboration with Russian state-company Atomstroyexport, is scheduled to have six 1000 MW VVER-1000 reactors.
Russia has already supplied 4 reactors. While the signing of Agreements for supply of units 5 and 6 was scheduled for 2016, the line of credit offered by Russia proved to be a hurdle.
What transpired?
Along with finalizing the Kudankulam deal, India and Russia also decided to commence manufacturing stealth-frigates and hold 'Indra 2017', the first bilateral tri-service exercise.
Putin also assured that India would become an official member of the Shanghai Co-operation Organization (SCO) in a week's time.
Nagpur-Secunderabad high-speed rail and a Memorandum of Understanding concerning export of precious stones were amongst the other deals clinched.
Charting the course for the future
Modi and Putin devised an 'Action Plan' to speed up bilateral co-operation around various issues.
Both the countries, under a joint document titled, ' A vision for the 21st Century', stated their intention to 'build an energy bridge' and deepen energy co-operation across renewable, nuclear and hydrocarbon sectors and improve energy efficiency.
They also underlined a unified stance against terrorism.
Where are India-Russia ties headed?
While India-Russia ties have more-or-less stayed strong over time, it has transformed from an ideological and natural affinity to a transactional affinity.
Moreover, India views Moscow's growing friendship with Pakistan and China as a disregard of its strategic concerns.
Despite geopolitical considerations, both countries are indispensable partners, making it counterproductive to not engage with each other. The ties are likely to continue strong.
What's on the PM's agenda next?
The PM will stop at France next and meet with the newly elected President Emmanuel Macron and strengthen the India-France Strategic Partnership.
He will also travel to Astana, Kazakhstan next week, to attend SCO summit.
The PM is also expected to undertake an important visit to the US, attempting to work out new immigration regulations with President Trump and drop by Netherlands and Portugal.