World
India took billions of dollars for the Paris deal: Trump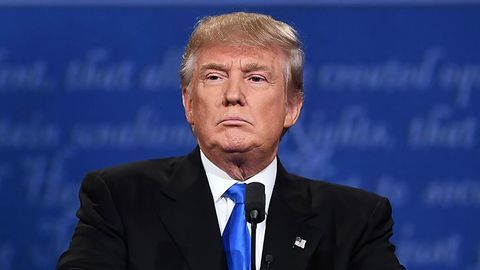 Donald Trump announced the US withdrawal from the Paris climate change deal but not without some harsh words for India.
US President Donald Trump accused India of trying to extort "billions and billions and billions" of dollars in order to sign the the climate accord.
Furthermore, he said while the deal allowed India and China to produce coal it put restrictions on the US.
In context:
Donald Trump- India's true friend or backstabbing enemy?
27 Jan 2017

Donald Trump calls Modi, says India a 'true friend'
4 days after he was sworn the 45th President of the US, Trump called PM Modi and invited him to visit the US later in the year.
Calling India a 'true friend' President Trump emphasized on the need for partnership between the 2 nations to address "challenges around the world".
The two leaders spoke about strengthening partnership in areas like economy and defence.
30 Jan 2017

Why Trump might not be India's 'true friend' after all
While Trump may have called India a 'true friend', his policies are anything but friendly.
The Trump administration's 'America First' policy and that of trade protectionism have cast an air of doubt on the Indo-US friendship.
The new H-1B visa reforms could affect the viability of Indian IT companies.
Moreover, US scaling down investment in India is a bad sign too.
Love World news?


Stay updated with the latest happenings.
02 Jun 2017

India took billions of dollars for the Paris deal: Trump
Will Modi still visit the US after Trump's rant?

While India has not yet spoken about the fate of Modi's impending visit to the US sometime in June, Trump's rant against India could potentially strain the meeting between the two leaders.
02 Jun 2017

Little truth in Trump's claims
Trump's claims that India receives billions may not be true after all.
In 2015, total foreign aid to India was $3.1 billion, only $100 million of that came from US.
The amount is being reduced to $34 million come 2018.
To put things into perspective, India gives billions to the US for armaments and almost $100 million for the import of almonds every year.
China

Despite the US pullout, India, China dedicated to Paris accord
While the US withdrawing may cast an air of doubt on the Paris climate accord but big emitters like India, China, and the European Union (EU) and reaffirmed their dedication to Paris Agreement.
Ronald Jumeau, climate ambassador for the Seychelles said: "The time when one big player could affect the whole game is past" especially with China and India over-achieving their Paris goals.