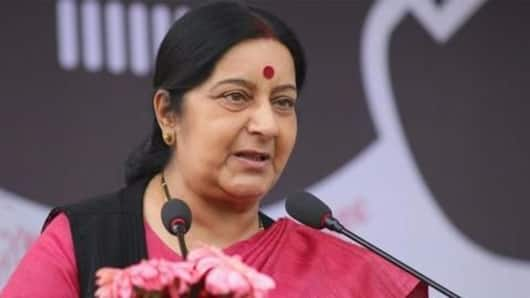 Middle east diplomatic crisis: What does India stand to lose?
Speaking on the ongoing diplomatic crisis in the Middle East, External Affairs minister Sushma Swaraj called it an intra-Gulf-Co-operation Council affair, with no implications for India.
"Our only concern is about Indians there. We are trying to find out if any Indians are stuck there", she added
However, possibility remains that Indian businesses in Qatar and movements of Indian expatriates could get affected.
Saudi Arabia, UAE, Egypt cut diplomatic ties with Qatar
Saudi Arabia, United Arab Emirates, Bahrain and Egypt have severed diplomatic, land and air ties with Qatar accusing them of backing terrorist groups including ISIS, Al Qaeda and the Muslim Brotherhood.
Egypt and Saudi Arabia further justified the move based on preventing threats to national security from extremism and terrorism.
On Monday, Abu Dhabi based Etihad Airlines also suspended its flights to Qatar.
India-Qatar relations
India and Qatar have maintained strong defence and economic ties.
They signed a Maritime Defence Agreement to counter extremism in 2008.
India is also Qatar's third largest export destination and is ranked 10th in imports. Total bilateral trade touched $15.67 billion in 2014-15, crossing the billion-dollar mark for the first time.
The country further accounts for 65% of India's Liquefied Natural Gas (LNG) imports.
Love World news?
Stay updated with the latest happenings.
Yes, notify me
Exports and imports
While India imports goods including polythene, propylene and ammonia from Qatar, it exports goods including machinery, textiles, spices, precious stones and chemicals to Qatar. The balance of trade is heavily tilted in favour of Qatar.
How could this affect India?
Indians are the largest expatriate community in Qatar and UAE, two countries currently on opposite ends of the crisis. Isolation of Qatar could hence affect their freedom to travel.
"The best case scenario for India is the issue being sorted soon, considering a large number of Indians work there," states ex- Indian ambassador and strategic affairs expert, M K Bhadrakumar.
Indian enterprises in Qatar
A number of Indian enterprises in IT, infrastructure and construction including HCL, Tata Consultancy Services Limited, Larsen & Toubro Limited and MahindraTech are operating in Qatar.
India's largest natural gas exporter RasGas in 2015 signed an agreement with Qatar for an additional annual supply of 1 million tonnes of LNG till 2028.
Indian banks including SBI and ICICI also operate in Qatar.
What does this mean for India?
Countries involved in the crisis including UAE and Qatar are important strategic partners for India. Keeping the fate of Qatar's huge Indian expatriate population in mind, India will have to carefully use diplomacy to tread through the current crisis.
India's energy supplies and traveling from India to Qatar are not likely to be affected as it is carried out through the Persian Gulf.