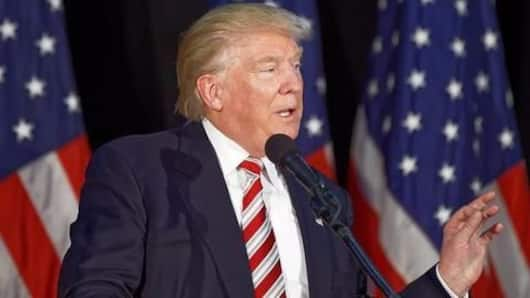 Swaraj rebuts Trump: India signed Paris Agreement out of belief
Responding to Trump's accusation that India received billions of dollars to sign the Paris Agreement, External Affairs Minister Sushma Swaraj stated that the Agreement was "neither signed under pressure, nor money".
She further acknowledged the tension has been growing between the two countries over matters including tightening the H-1B visa norms.
Does this mean that Indo-US ties are doomed under Trump's presidency?
Haley, Trump provoke India over climate change
Credits:
US has been aggressively defending its decision to withdraw from the Paris Agreement. Dragging India into it, Trump had asked why the US should stop its coal production, while India was allowed to double its coal production by 2020.
US ambassador to the UN, Nikki Haley had also said that the US does not need India or China advising it on climate change.
Swaraj claps back
Responding to US's sharp signals Swaraj clarified that India signed the pact out of "5000-year old belief in environment and that India did not intend to profit from it. India will remain committed to the pact whether US stays in it or not", she clarified.
Love World news?
Stay updated with the latest happenings.
Yes, notify me
What else did she say?
Speaking at a press conference, she said that India was in constant touch with the members of the US administration to resolve issues related to the H-1B visas.
Responding to a query on whether Pakistan will take the Kashmir dispute before the ICJ, she clarified that both countries are bound by agreements including the 1972 Simla Accords, mandating them to resolve the dispute bilaterally.
What is the H-1B visa?
The H-1B is a non-immigrant visa in the United States set up under the Immigration and Nationality Act, Section 101(a)(15)(H). It allows US employers to temporarily employ foreign workers in specialty occupations.
What context was the statement made in?
The durability of Indo-US partnership, which has been flourishing over the past decade under Presidents Bush Jr. and Obama may be under question under Trump's thorny Presidency.
Frictions have risen over matters including tightening the H-1B visa norms, severely affecting Indian IT companies in the US.
The matter is also set to come up for discussions doing PM Modi's upcoming visit to the US.
Are Indo-US ties doomed?
Swaraj clarified that despite these frictions, there have been no indications from the US government on intentions to dilute bilateral relations.
Moreover, US has called out Pakistan for breeding terror, echoing India's voices. Trump further recognized India as a 'victim of terror' recently.
Mutual interests including checking China's rise and stakes in the Afghanistan crisis will continue to drive a strong Indo-US strategic partnership.