World
Qatar's isolation marks the beginning of end to terrorism: Trump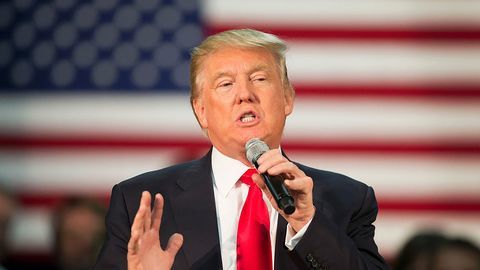 Weighing in on the ongoing Middle East diplomatic crisis, President Trump stated that his trip to Middle East was already paying off, referring to Arab countries hardening stance against funding extremism.
"Perhaps this will be the beginning of the end to the horror of terrorism!" he said in a tweet.
Addressing over 50 Arab nations in May, Trump had urged them to fight terrorism.
In context:
Did Trump indirectly trigger the Middle-east diplomatic crisis?
22 May 2017

Step up in fight over Islamist-extremism: Trump to Arab leaders
On May 22, during his inaugural presidential visit to Saudi Arabia, Donald Trump revised his anti-Islam rhetoric and classified the fight against terrorism as one between good and evil.
Speaking at the Arab-Islamic American Summit in Riyadh, he further urged Arab leaders to combat the "crisis of Islamism emanating from their homelands".
He also sought to chart a new course for US-Middle East relations.
05 Jun 2017

Saudi Arabia, UAE, Egypt cut diplomatic ties with Qatar
On June 5, Saudi Arabia, UAE, Bahrain and Egypt have severed diplomatic, land and air ties with Qatar accusing them of backing terrorist groups including ISIS, Al Qaeda and the Muslim Brotherhood.
Egypt and Saudi Arabia further justified the move based on preventing threats to national security from extremism and terrorism.
On Monday, Abu Dhabi based Etihad Airlines also suspended its flights to Qatar.
Love World news?


Stay updated with the latest happenings.
07 Jun 2017

Qatar's isolation marks the beginning of end to terrorism: Trump
10 Jun 2017

US calls on Arab countries to ease Qatar blockade
The US has called on Saudi Arabia, UAE, Egypt and Bahrain to ease their blockade on Qatar.
US Secretary of State Rex Tillerson demanded that all parties ease tensions which have simmered since Turkey offered to send troops to aid its ally Qatar.
Tillerson's statement somewhat contradicts President Donald Trump's suggestion earlier this week that he's siding with Saudi Arabia on the crisis.
US-Qatar relations

Udeid, the largest US air base in the Middle East is in Qatar. The country also hosts about 8000 US military personnel. The base also serves as a staging area for US operations against ISIS. The two countries further have strong economic ties.
Consequences

What has happened after Qatar's isolation?
While Qatar has denied the allegations levelled against it, Qatari population queued supermarkets to stock up on groceries before the isolation, before the effects actually hit.
Throwing cold water at OPEC efforts to tighten oil production, the impact of the ongoing diplomatic crisis was also felt on falling oil prices.
A number of banks have also started pulling out of dealings with Qatar.
Love World news?


Stay updated with the latest happenings.
The interests of countries including India and US would be safeguarded better if the crisis is de-escalated. US had signalled its intention to calm things down, stating that Qatar held an important place in US military and diplomatic relations to be isolated.
According to official sources, Sheikh Al-Jaber al-Sabah, Kuwait's emir is set to meet the king of Saudi Arabia to contain the crisis.